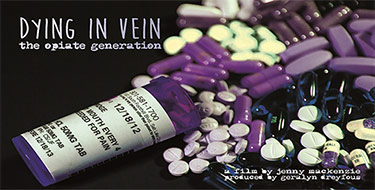 Opiate Documentary Will Host Director at Free Screening
The Library will host a special free screening of the acclaimed documentary, "Dying in Vein: The Opiate Generation" on Wednesday, April 5 from 6:30-9 pm.  The area premiere of the film will include a Q&A session with director Jenny Mackenzie, addiction specialists, as well as recovery and support programs. The evening is sponsored by the Library, Stratford Partnership Youth and Families and the Stratford Health Department.
"Dying in Vein: The Opiate Generation" is a deeply personal exploration of opiate and heroin addiction through a cinéma vérité style that drops one directly into the lives of an addict in recovery, a lesbian couple trying to get clean and a family grieving the loss of their son. Through these stories, the film explores the contemporary belief of 'living life pain free', the shame and blame that exists around addiction, co-dependence and the impact of socioeconomic class on our broken treatment system. Award-winning filmmaker James Redford calls the documentary, "An extraordinarily intimate and beautiful film about one of America's biggest public health tragedies."
Some of the specialists who will be on hand for the one-to-one discussion following the film include Donna and Matt Deluca, Co-Founders of The Community Addiction & Recovery Education & Support (C.A.R.E.S.) Group and Chief Clinical Officer Jennifer Kolakowski and Division Director of Outpatient Services Carolee Paruta from the Recovery Network of Programs (R.N.P.).
"Dying in Vein" will be shown in the Lovell Room of the Stratford Library beginning at 6:30 pm on April 5th.  It is a free event, but reservations are strongly encouraged by calling Stratford Community Services at: 203.385.4095.