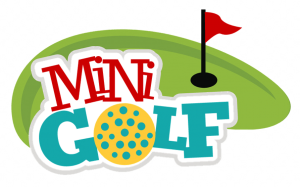 Mini-Golf Fundraiser to benefit Library collections Enjoy a round of mini-golf  in the Library stacks!
FORE! Adults (21+)
Join us on Friday, Nov. 9, 6:30-9pm for food, drink, silent auction and hole in one prizes.
$15 per person, $25 per person with drinks.
Please buy tickets for Friday in advance. A limited number of tickets will be available at the door.
FORE! All Ages
Stop in on Saturday Nov. 10, 10am-4pm for hole in one prizes, silent auction and family fun. Participants age 13 and under must be accompanied by an adult.
$5 per person / $20 per fivesome
Tickets for Saturday may be purchase in advance or the day of. Walk-ins welcome!
Tickets available at the Stratford Library Check-Out Desk
To order tickets, call 203.385.4166 or purchase via Paypal below.