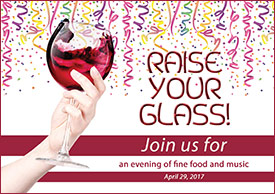 Join us on Saturday, April 29 at 6:30 pm for Raise Your Glass, a gala evening of  music, dancing, appetizers, dinner, fine beverages and delectable desserts.  The event will be held at the Oronoque Country Club in Stratford. Ticket price is $75 per person and all proceeds will benefit the library's collections.
To listen to the State of the Arts WPKN interview of Susanne Lofaso of the Chiclettes, click here.
Please patronize our generous sponsors and support this year's Stratford Library Gala.
The evening will feature The Chiclettes.  From Lesley Gore to Lady Gaga, The Chiclettes will keep you on your feet with their high -energy performance showcasing female hitmakers from the last five decades, mixed with the hottest dance turns from Motown to today.  Performing their classic girls group tribute, they take their audience on a musical journey through the history of female rock & roll that is unparalleled in the entertainment industry today.  With faithful recreations of the harmonies and choreography of the girl group era, The Chiclettes deliver an unforgettable performance.
There will also be a live auction featuring a signed Star Trek cast movie poster (16×20) and a Patriots Legends helmet and Two Vacation Packages.
A complete list of Silent Auction items will be announced soon.
To order tickets, call 203.385.4166 or purchase via Paypal below.