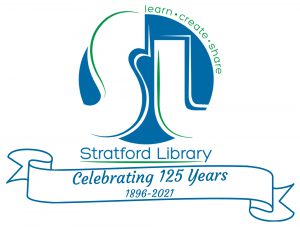 Stratford Library is celebrating our quasquicentennial, or 125th Birthday in 2022! Whether you just moved to Stratford this year or still have your beige Stratford Library Association card, we're sure you'll want to celebrate with us. To get started, check out the Library's – History page and our Youtube video. We have a lot of events scheduled for 2022, so mark your calendar today:
January    An Evening Tea Party
February  Take Your Child to the Library Day!
March   Storytelling & Poetry Festival
April 30th  Stratford Library's Annual Gala
May   Spot the Library in Stratford's Memorial Day Parade
June   Annual Book Sale in conjunction with the Main Street Festival
July   Stratford Library's 125th Birthday Bash!
August  Books Over Coffee 125th Birthday Edition
September  Annual Friendraiser:  An Evening with Mark Twain
October  Haunted Stratford Walking Tour
November  An Evening with author, Beatriz Williams
November  Fall Film Festival 125th Birthday Edition
December  Holiday Music Series featuring the CT Yuletide Carolers, New England Guitar Society & more!
We hope you will join us in this year-long celebration!
Maria Ferrera
Chairperson, 125th Celebration Committee