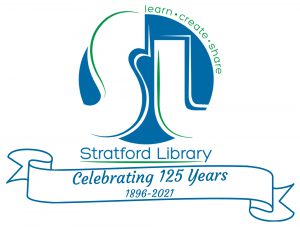 Stratford Library is celebrating our quasquicentennial, or 125th Birthday, in 2022! Whether you just moved to Stratford this year or still have your beige Stratford Library Association card, we're sure you'll want to celebrate with us. To get started, check out the Library's History page and our Youtube video or purchase a commemorative Stratford Library 125th Anniversary Memory Book for $5 at our Check Out Desk! Also, get cooking with our community cookbook or share a recipe of your own! We have a lot of events scheduled for 2022, so mark your calendar today:
Historian Dave Wright will present a special Halloween program about Stratford's haunted past.
November 14-18: Fall Film Festival – 125th Birthday Edition

December 4-18: Holiday Music Series featuring the CT Yuletide Carolers, New England Guitar Society, and more!
We hope you will join us in this year-long celebration!
Maria Ferrera
Chairperson, 125th Celebration Committee
Thank you to our sponsors: