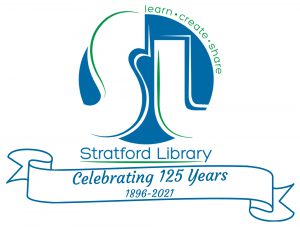 Stratford Library is celebrating our quasquicentennial, or 125th Birthday in 2022! Whether you just moved to Stratford this year or still have your beige Stratford Library Association card, we're sure you'll want to celebrate with us. To get started, check out the Library's – History page and our Youtube video. Get cooking with our community cookbook or share a recipe of your own! We have a lot of events scheduled for 2022, so mark your calendar today:
January 11, 2022 at 7 pm: An (online) Evening Tea Party
The History of Tea
A guest speaker from Fairfield's famed Bigelow Tea Company will give a history of tea in America this evening.   In conjunction with the talk, a variety of delicious teas, compliments of Bigelow, will be available at the Library for patrons to pick up. Register for the Zoom here.

February 5, 2022:  Take Your Child to the Library Day!
Martha Simpson Day
The Library will be celebrating National Take Your Child to the Library Day with our own version – Martha Simpson Day! Mrs. Simpson will be retiring in February 2022. So celebrate our Department Head and her many accomplishments over the past decades! In honor of the special day, we will have giveaways for kids ages 0 to 12. Register and let us know your child's age so we can select a free book for each child! We will have other giveaways, too
Stay tuned…
February 6: Sunday Afternoon Talks: Igor Sikorsky, Jr. 
February 12: Sunday Afternoon Talks: The African American Museum
March 24: Storytelling & Poetry Festival
April 30th, 2022: Stratford Library's Annual Gala
May 30: Spot the Library in Stratford's Memorial Day Parade
June 8: Readers Theatre Showcase – 125th Plays!
July 16: Stratford Library's 125th Birthday Bash!
July 23: New England Guitar Society Concert
August 24: Books Over Coffee 125th Birthday Edition
September 23: Annual Friendraiser:  An Evening with Mark Twain
October: Haunted Stratford Walking Tour
November 9: An Evening with Beatriz Williams, author of Our Woman in Moscow, The Wicked Widow, and more!
November 14 – 18: Fall Film Festival 125th Birthday Edition
December 4 – 18: Holiday Music Series featuring the CT Yuletide Carolers, New England Guitar Society & more!
We hope you will join us in this year-long celebration!
Maria Ferrera
Chairperson, 125th Celebration Committee
Thank you to our Sponsors

The Mayor's Charity Golf Tournament