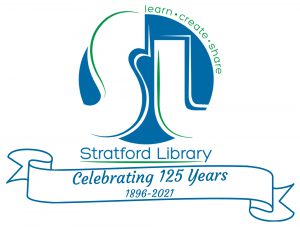 2021 marks the Stratford Library's quasquicentennial, or 125th anniversary! Whether you just moved to Stratford this year or still have your beige Stratford Library Association card, we're sure you'll want to make some 125th anniversary memories with us.To get started, check out the Library's – History page and our Youtube video. And stay tuned for some "historical" announcements- in 2022 we'll have events throughout the year for the Library's big birthday and will be looking for old photos, library cards, and memories from our patrons.
One way you can connect with the Stratford Library's 125th celebrations is with food! The Stratford Library 125th Anniversary Committee is assembling a Stratford Library cookbook. We'd love to receive your family recipes so that everyone in Stratford can enjoy them. Honor a relative or a friend by sharing your recipe's history so your memories will live on in our town.
Cookbook submissions will be accepted through July 15, 2021. Cookbooks will be available for purchase starting in Fall 2021. Each print cookbook purchase includes an ebook version – whether you are a cookbook collector or a smartphone sous-chef, our cookbook will work for you!
Submit your recipe below.