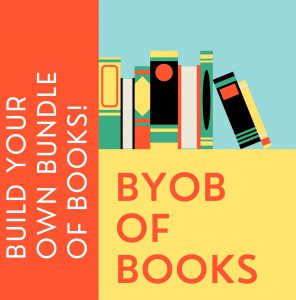 Tell us what you like to read, and we will help Build Your Own Book Bundle!
Our librarians can help you build a bundle of 3-5 books to check out.
Do you love spy stories, and would relish discovering several new-to-you authors?  Maybe you would enjoy a sampler "variety pack" of one book each in five different categories (historical fiction, adventure, thriller, romance, or other genre).  Are you a nonfiction reader and you'd like us to select some great possibilities for you?
Whatever your preference, we can help you build a bundle of adult fiction or nonfiction, so that you can spend more of your time reading! 
Examples of Categories:
Cozy Mysteries (Chocolate Cream Pie Murder)
Grab-a-Tissue Books (Nicholas Sparks)
Thrillers (The Guest List)
Modern Issues Fiction (Leave the World Behind)
Heartwarming Intergenerational with Substance Books (A Man Called Ove)
Romance with Contemporary Problems and Happy Endings (Evvie Drake Starts Over)
Adventure (Clive Cussler)
Legal (John Grisham)
Oprah / Reese / Jenna book club type books
Vacation-y Escape Books (Elin Hilderbrand)
Settle in with a Big Book (Ken Follett)
Quirky Nonfiction (about salt, or fungi, or whatever)
CT authors variety pack (Kristan Higgins, Benn, )