Welcome to the Stratford Library Teen Page!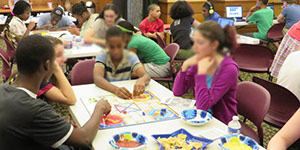 The very first 6th Grade Finish Line Program was  a BIG hit.
This brand new program invites all current 6th graders to join us for food, fun, crafts, board games, video games, raffles, and more.  If you missed the first meeting no worries!!!
Join us for the next one Wednesday, April 22nd at 6 pm in the Lovell Room.
The evening is free, no registration is required and ALL 6th graders are invited!
Come alone or bring some friends.

---

---

Learn some new skills @ the Library


What can you do with your library card and lynda.com?  Design a website, create code, create 3D animation, film and edit a movie, produce music and so much more!

6th Grade Finish Line
Are you in 6th grade?  You're Invited! 6th Grade Finish Line
This is your chance to get to know 6th graders from other schools that you are going to go to middle school with next fall.  Get to know the Teen Services staff and let us get to know you.  There will be video games, board games, crafts, music food and fun! Stop by. No registration required.  Wednesday March 25th at 6 pm in the Lovell Room.

---

Upcoming Teen Events

Creative Writing Workshop March 23rd 6:30 pm
Youth Review Board  April 1st 3:30 pm
Anime Club April 8th 4 pm

---

Have you checked out the latest FREE apps available to you with your Stratford Library Card?


Streaming TV shows and Movies!

---

Thousands of technology, creative and business courses for ALL levels!

---

Call us at 203-385-4167 or visit Teen Services for more information!