Welcome to the Stratford Library Teen Page!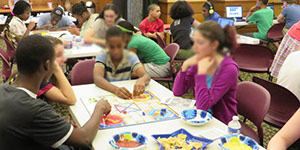 Do you have some free time over the school vacation?  Well check out some of the things you can do at the library for FREE!
Hang out in the Teen area and…

Play some board games
Try out our crafts supply-BE CREATIVE
Read a great book
Pick up some DVD or CDs
Check out the growing Anime & Manga collections
Download one of the AWESOME apps available for free:
hoopla–MOVIES & TV shows
Freegal Music–free downloadable music
Overdrive–free downloadable books
Try out UltraKey6 and improve your keyboarding skills
Log into TERC and prepare for your ACT, SAT or PSAT
OR…catch up those assignments!

Join Stratford High, Bunnell High and Stratford Library's
Creative Writing teens for this Special Event.

All teens are invited to attend and participate in not just poetry performance but also music..played or sung, film/video shorts, art of any type, dance or ??? anything creative! Bring a friend. Light refreshments will be served.

Tuesday, December 16th at 6 pm in the Lovell Room

Streaming movies and TV shows @ the Library–FREE!

Download  hoopla  from your app store and start enjoying movies and TV shows with just your library card number!  Multi-user access so there is no wait for the title you want! Stop by and ask us about this NEW and EXCITING app.