Welcome to the Stratford Library Teen Page!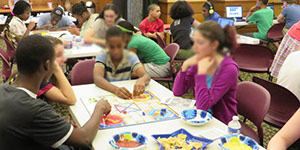 Talk Back on BOYHOOD…..
Tuesday, February 17th at 3:30 in the Lovell Room. No school this Tuesday so it's a perfect day to join Stratford teens and library staff to discuss and explore this amazing movie and it's cast. Food, fun and sharing your thoughts.  We look forward to hearing what you think.

The Sixth Grade Finish Line is an awesome new program Just 4 Sixth Graders!
Stop by and check out all of the exciting
programs you can become part of!

YOU ARE INVITED!
Who: Everyone currently in 6th grade
What: The Sixth Grade Finish Line
Where: Stratford Library Lovell Room
When: Mar. 25th, Apr. 22, May 20, Jun 17
Time: 6-8 pm

Absolutely FREE!  NO REGISTRATION!
These evenings will be full of games, crafts, music, food and fun.
Stop by and find out more about the Teen Department and all of our programs and activities.
Get to know the Teen staff.
Find out  more about the Youth Review Board, Anime Club, Teen Tuesdays, Volunteering and much, much more.
Bring a friend and come make some new friends.
Have questions ?  Call us at 203-385-4167.

 Golden Globe Winner
and Academy Award Nominee


   BOYHOOD


…a movie filmed over 12 years about growing up in any family
…even your family!

All high school and college teens are welcome
and all middle school students who would like to attend
are encouraged to bring a parent.
This film is rated R.
Any questions please stop by Teen Services or call 203-385-4167.

Tuesday,  February 10, 2015
5-8 PM in the Lovell Room
Pizza will be served!