Welcome to the Stratford Library Teen Page!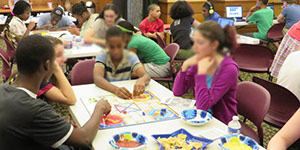 The Library will be closed in observance of
Memorial Day on Monday, May 25th.

---

Teens have definitely been having fun!
Here are the next meetings that you do not want to miss:

Youth Review Board-Wednesday, June 3rd at 3:30 pm
Anime Club-Wednesday, June 10th at 4 pm
Creative Writing- Monday, June 15th at 6:30 pm
6th Grade Finish Line-Wednesday, June 17th at 6 pm

---

Details about Teen Summer Reading program with awesome NEW prizes will be announced soon.
Summer flyer with all our programs including Teen Tuesday Special Summer Events is coming soon.

---

Programs, dates and events will be available in our Summer newsletter, Summer e-newsletter, and on the library website.  You can also check out what's happening at the library on Facebook, Twitter, Instagram, Tumblr and YouTube…..and as always,  STOP BY AND ASK US!

6th Grade Finish Line
Wednesday, May 20th 6 pm.  If you still haven't tried the 6th Grade Finish Line or maybe you are already a regular join us for our next event!  Food, fun, crafts, video games, board games, raffles and more.  Stop by and check it out!

---

Anime Club
Wednesday, May 11th at 4 pm.  Join us while we watch Madoko Magica!  Recommend ideas for the Teen Anime/Manga collections, talk w/ other Anime Fans about what you are reading, watching, drawing and gaming.

---

Creative Writing
Monday, May 18th at 6:30 pm meet with other high school and college teens who love to write and share their writings.

                                                                      

Were you a fan of the Fear Street books?
Maybe you were a fan of Goosebumps.

R. L. Stine is back and he is still bringing the FEAR!  Stine has been keeping us on the edge of our seats and even making us keep the lights on for a very long time.  Check out his brand new book Party Games and then revisit some of old favorites! Everyone loves a little FEAR STREET!