Welcome to the Stratford Library Adult Department.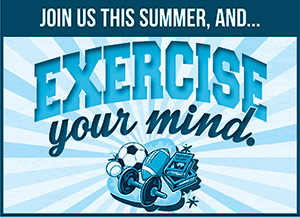 Entertain and exercise your mind this summer by reading! The Library offers books, audiobooks and ebooks to sharpen your skills with suspense, thrill your head and heart with romance, challenge your perceptions with alternate viewpoints and soothe your soul with old favorites.
Register anytime between June 4 and August 13. For each book you read (or listen to), fill out a reading slip to be entered into a gift card prize drawing. Register and record your books at the Adult Services Desk or create an online summer reading account.
Stop by the Adult Services Desk or call us at 203.385.4164 for more details.