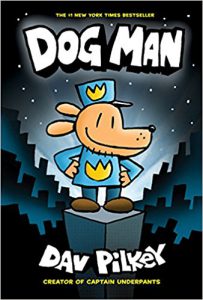 We've been enjoying summer reading SO much this year, and one of our FAV. things is to hear about your favorite books! One that we have seen on many lists this year is Dog Man. A couple things you should know:
It is by Dav (no e!) Pilkey, who is also the author of Captain Underpants and Ricky Ricotta.
It is 2 words. Dog Man. Lots of times people have trouble looking it up because it sounds as if it should be one word.
It is very funny.
It is a comic book, aka graphic novel.
Right now, there are 4 Dog Man books; Dog Man, Dog Man and Cat Kid, Dog Man Unleashed, Dog Man: A Tale of Two Kitties
If you like it, we recommend Stick Cat. It is more of a chapter book with doodles, but we think it is equally hilarious. You could also enjoy Crafty Cat, which is a graphic novel.
We don't fight like cats and dogs about cats and dogs books here at the Library – we enjoy them both!!!