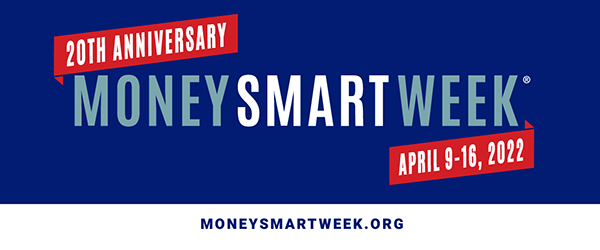 Money Smart Week is a week-long free virtual campaign that aims to help people better manage their personal finances. It is:
100% virtual
Livestreamed events + select resources
Focused on aiding the hardest-hit communities
Money Smart Week 2022 Programs:
These online workshops cover important financial topics ranging from budgeting, personal credit, home buying and Social Security benefits. Events are free and open to the public, but registration is advised. Questions for the panelists can be submitted during the registration process.
On Monday, April 11, 2022 from 1:00 p.m. – 1:30 p.m. CT Money Smart Week will host
"Spend Smart. Eat Smart."

Do you find that you are overspending on food
and groceries? Or do you want to adjust your food budget to cover other necessary bills? In this
session, Iowa State University Extension and Outreach will:

Assess recommended guidelines for spending
on groceries.
Walk through user-friendly tools to help you make informed decisions on grocery purchases.
Review planning ideas that can let you take charge of your food budget in a way that works best
for your household.

$$$$

Are you thinking about buying a new home or refinancing a current home? Are you unsure how to find a reputable lender and low-risk loan? In this session, North West Housing Partnership will:

Outline the home buying (or refinancing) process, including lending considerations.
Explain predatory lending.
Cover common characteristics of housing discrimination and predatory lending.
Provide tips and tools to avoid predatory lenders.

On Tuesday, April 12, 2022 from 1:00 p.m. – 1:30 p.m. CT Money Smart Week will host "Credit: Build & Improve It!"

Is your credit keeping you from the home, car, or job of your choice? In this session, the Consumer Financial Protection Bureau (CFPB) will explain what a credit score is and how it changes as well as introduce key steps you can take to boost your credit score.

During this presentation, The Consumer Financial Protection Bureau (CFPB) will highlight tools to help you monitor and address common issues in your credit report that could be unfairly impacting your score. This session will include links to the CFPB's free publications and resources so you understand your rights.

$$$$

Social Security touches the lives of every American and is a vital part of any financial plan. Securing today and tomorrow starts with being informed. In this session with the Social Security Administration: 

Learn the entitlement factors for retirement, spouse, ex-spouse, and survivor benefits.
Gain an understanding of the options to start benefits at various ages and the effect of wages on them.
Expand your knowledge of Social Security's online tools and resources at www.ssa.gov, including applying for benefits.
STRATFORD LIBRARY further reading: