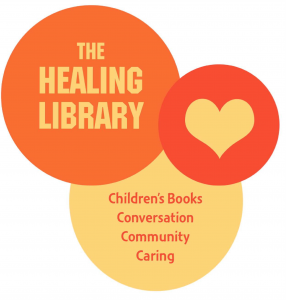 Family Materials – Death of a Loved One
Stratford Parents' Place and the Stratford Library Children's Department acknowledge that this project is made possible in part by the Institute of Museum and Library Services under the provisions of the Library Services and Technology Act, administered by the Connecticut State Library, and a Community Impact Grant from the Stratford Rotary Club
This document is the online version of the Healing Library kit that is available at:
Stratford Library Children's Department, 2203 Main Street, Stratford, CT 06615  and
Stratford Parents' Place Family Resource Center, 718 Birdseye Street, Stratford, CT 06615
Click here for a PDF version of this kit.
Click here for a PDF of the Book Discussions in the kit.
Welcome, friends.
This kit has been designed for your family's use during a period in your lives when you're experiencing the death of a loved one.
Inside you will find:
Discussion Guide
Healing Activities
Acts of Kindness
Community Resources
Children's Books with DiscussionGuides
Annotated Bibliography
Addendum of Additional Resources
This combination offers you an assortment of ways to move forward in a healthy manner.
The original Healing Library project was piloted by librarians at the Chattanooga Public Library, TN and the Lewiston Public Library, ME. These kits were developed by librarians, a children's literature advocate, and a holistic art and play therapist. The kits are not intended to take the place of a counselor, but rather provide a set of resources designed by professionals to help families on their unique journeys of healing during periods of trauma. This kit includes some materials from the information supplied by the Healing Library on their website: http://www.curiouscitydpw.com/2017/10/17/healing-library .
The Healing Library Model was replicated by a partnership with Stratford Parents' Place Family Resource Center and Stratford Library Children's Department.  With the help of community partners such as Stratford Community Services, this kit was customized for the Stratford Community.
This kit is available at both Stratford Parents' Place, located at Stratford Academy/Johnson House, 719 Birdseye Street, Stratford CT, 06615, 203-381-6992 or at the Stratford Library Children's Department located at 2203 Main St, Stratford, CT 06615, 203-385-4165.
This kit is designed to start your journey of healing, but not complete it.
Just as your loved one was unique and special, the grief process experienced by you and your children will also be unique.  The enclosed material and Community Resources guide will assist you in taking your next steps.  Thank you for taking this step in your healing process.   We wish you peace.
Discussion Guide
Grief is actually a healing process that takes place after traumatic experiences such as the loss of a loved one. It is a serious matter, but also an opportunity for growth individually and as a family. Loved ones pass away in a variety of ways, some of which are peaceful and expected and others of which are sudden or violent. No matter how it happens, a loved one's death will most likely result in a sense of loss for your child. The loss felt during any of these experiences is painful for all family members and it is especially hard for parents to see their children grieving.
Parents who want to minimize the grief their children experience may lie to their children in an effort to soften the blow because they are inadequately prepared to discuss loss, death, and grief with their children.
It is our hope that this guide will give you strategies to talk to your children in an honest way so they understand what has happened and can heal in a way that affords growth, better preparing them to deal with difficult times as they grow older.
Each Child is Different
It will be no surprise to you that each child will process and express their grief differently. Some will do so verbally; some will do so through imaginative and dramatic play; others will express themselves through drawings and art; and still others through physical activity. Each reaction is important, and no one way is "better" than another. Our Discussion Guide and Healing Activities offer various opportunities for your child to explore and process their feelings.
As you begin discussing the issue of death with your child, keep this in mind: If you're talking with a child who does not verbally respond, it does not mean they "aren't listening."
They may simply be processing information differently. We suggest switching over to an activity from our Activities Guide to provide the child a physical opportunity to share their feelings and communicate with you.
Understanding and Explaining Death
Death can be confusing for anyone, but for a child dealing with death for the first time, there's an added layer of fear on top of confusion. Common explanations from parents intending to soften the blow and protect children may unintentionally make things confusing, or lead to problems in dealing with trauma as they grow older. To give your child clarity and comfort, the best approach is to be honest and consistent.  Explaining that a person has died because they became sick or grew old and their body stopped working works well. If your loved one has died unexpectedly, young, or as the result of violence or an accident, your explanation will vary but should still stick to the theme that their body no longer works, so they are not alive any longer.
Your child may ask the same question repeatedly, seeming to forget what you've already told them. This is a natural part of how they process information. If you are also grieving, it may be painful for you to keep repeating the same answer, but keep in mind that a consistent answer is what your child needs to grieve in a healthy way.
Children who have experienced death before may have more experience, but will also still go through the grieving process. Discussing those previous experiences can be useful.
The 5 Stages of Grief
Dr. Elisabeth Kubler-Ross identified 5 stages to the grieving process, (Kübler-Ross, 1969). These stages are typically experienced when we suffer a loss, though not necessarily in order, not just once but sometimes repeatedly revisiting a particular stage or stages, not necessarily through experiencing all stages, and with the amount of time spent in the stages being different for everyone.  Some may take only minutes to process, while others can take years.  It's important to understand that this timeline has nothing to do with the amount of love a person felt for the loved one who has died. In addition, these stages are not signs of mental illness but rather indicators that your child is going through the healing process of grief.
Denial
The world feels overwhelming and meaningless. Denial allows us to process our loss over an amount of time suitable to each person by suspending belief. When we begin to ask questions, we know that we are beginning to heal. However, as we begin to heal, the feelings we were originally denying begin to surface and must be dealt with. For a child, denial is visible when they are distraught one minute then able to play with friends or toys and seem joyful the next minute. In addition, their repeatedly asking questions is an indicator that they are suspending their denial and processing their grief again.
Anger
This stage of the healing process can feel endless. You question everything with anger, but underneath anger is your own pain. Although we live in a society where anger is not welcome, it can provide you with the strength needed during this period of healing. Anger is also representative of the love that is felt. Your child may feel angry with the person who has died, with you, with their friends, or just angry in general.
Bargaining
If your loved one is currently dying, you may find bargaining taking place with your child: "If she gets better, I'll never be bad ever again." If your loved one has already died, their bargaining may sound more like "what if" statements — "What if I was nicer to him? Would he still be alive?" This stage can lead to feelings of guilt that are sometimes merited and other times are not. If, for example, if your child had a fight with a friend who later died of cancer, your child may feel guilt for their perceived involvement in the death. Don't be afraid to discuss this guilt with your child and to reassure them that we all make mistakes, we simply need to learn from them. As Buzhardt & Steib point out, "Learning from mistakes is constructive; blaming ourselves for them is not" (Buzhardt & Steib, 2008).
Depression
This stage embodies a feeling of great emptiness that seems to last forever. Often the person experiencing depression withdraws from family, friends, or school.  Crying is often associated with this stage. Please remember that crying is a natural part of many of the steps of the grieving process, and don't encourage your child to "stop crying." They will stop when the time is right.
Acceptance
This stage involves accepting the reality of a new world without your loved one, understanding how to adjust in this world without your loved one, and knowing that you may not feel "OK," but you can move forward. During the acceptance phase, your child may feel guilt over "feeling better." Remind them that feeling better does not mean their love has changed. Instead, it means that they are taking care of themselves, something their loved one would have wanted.
How to Start a Conversation
In conversation, there are three simple steps for parents and helpers to follow: (a) be honest with children; (b) encourage children to be involved; and (c) avoid euphemisms about death. (Corr & Corr, 1996)
Listening to your child's questions will give you insight as to what they understand about death already and what stage of grief they are experiencing.
Outside of Your Home
In addition to the conversations you have as a family, your child may find comfort exploring this matter with others, as well. Peers and the media, for example, may offer alternative viewpoints about what happens when we die.
Preparing your child to expect alternate viewpoints may reduce their confusion. Explain to your child that the world is a big place with a lot of big ideas about everything, including death. (Let your child know that you are sharing these perspectives to provide them with comfort and care.). Suggest that your child discuss these viewpoints with you so they can process this information.
A Few Things to Avoid
A few common tactics parents have developed to try and minimize their child's pain include the following. Also listed are potential repercussions of these actions:
Lying to your child by telling them their loved one has gone to sleep or explaining that death is like falling asleep and not waking up again.
Death is different than sleep. Some people do die in their sleep, but it's important children realize that their loved one has died. Children and their loved ones go to sleep every night, and thinking that their loved one who has died went to sleep and never woke up can scare children into thinking they, or their remaining loved ones, may die when they go to sleep. In addition, this fear may be too complex or frightening for them to verbalize, leaving them feeling scared and helpless.
Telling children their loved one has gone to heaven when you do not believe in heaven.
Your child is likely to ask you questions about what happens to your loved one after they die. For example, your child may ask questions about souls or spirits. Be honest about your own beliefs on the topic. This will spare the child from confusion or any unintentional feelings of being lied to later on.
You can also ask the child what his or her own thoughts and beliefs are, or ask your child what s/he has heard from others about their beliefs. Furthermore, there's nothing wrong with letting your child know you're not sure what happens, if that is true. An open dialogue will allow your child to explore this challenging topic in a way that respects your own cultural and/or religious beliefs as well as recognizing that people have different views about the subject.
Ages Birth through Preschool
Children of this age do not have a solid concept of what death is. Children mirror and take on the emotions of others at this stage of their life, so it's important you reassure them with love, patience, and kindness.
In addition, you may be going through the grieving process yourself. Don't hide this from your child; instead, model healthy behaviors your child can replicate. If you are crying, let your child know it is because you miss your loved one.
Children ask a lot of questions at this age that may make you sad, but answer them as honestly and consistently as you can. Children also repeat questions at this age as a way to process information. Your honest answers when grieving or feeling better will provide them with what they need for their own healing process.
Grade School and Beyond
Grade school-aged children begin to have an understanding of death that becomes clearer as they become preteens and adolescents. For this age group, the 5 stages of grief will be more apparent, and your attention to verbal and physical cues will help you understand what your child needs to talk about.
In addition, you may be going through the grieving process yourself. Don't hide this from your child; instead, model healthy behaviors your child can replicate. If you are crying, let your child know it is because you miss your loved one.
Specifically, when it comes to caring for adolescents, one study found that "Providing support to a grieving adolescent or young adult requires 1) understanding normal development, 2) appreciating common grief responses, 3) identifying deviations, and 4) understanding developmentally appropriate interventions. Fortunately, recent research has begun to examine effective approaches to interventions for bereaved teens and young adults." Be prepared for your teen to want to spend time with their friends instead of their family. While you may find this painful, it is simply your teen's way of normalizing the events which have occurred and building their social skills outside the family with this new piece of their identity.
For more information on the developmental stages of grief, see the attached Grief in Developmental Stages, Good Grief Organization, www.good-grief.org and Developmental Responses to Grief from The Dougy Center:  The National Center for Grieving Children & Families in the Addendum.
Where to Draw the Line with the Truth
Being honest about your loved one's death is important. There are instances when you should consider what your child needs to know and provide that information delicately while still being honest.  For example, if your loved one is killed in an automobile accident, simply telling your child their loved one was hurt so badly the doctor couldn't make him/ her well again will be enough. A detailed post-mortem discussion is not necessary to help your child.
Remembering Your Loved One Together
If your child is having a hard time coming to terms with the death of your loved one, discussing all the wonderful points of their life may be helpful. In addition, explaining to your child that although everything dies, the way we humans live as opposed to how our pets live and how plants live can be comforting. We humans are very lucky to have the long lives that we have, as well as the ability to accomplish the variety of wonderful things we're capable of. Even if your loved one has passed away prematurely, you can share stories of their talents, accomplishments, and brilliance together.
Such discussions about your loved one can provide comfort long after they are gone.  Your family will have stories to share that will comfort everyone.  These questions may spark this sharing:
How did they make you a better person? What are your favorite memories with them?
What are some things about them that made them unique and different from other people?
Keep the Conversation Going
To keep your conversation going, we've included discussion guides with each book in this kit, based on what we've gone over in this Discussion Guide.  We recommend reading through each book's guide before sharing it as a family.
Resources
Corr, D. M., & Corr, C. A. (1996), Handbook of Childhood Death and Bereavement,  New York, NY: Springer Publishing Company.
Kübler-Ross, E. (1969),  On Death and Dying,  New York: Macmillan.
Healing Activities
These activities can be done independently or together. Follow your instincts when determining when to participate individually or as a family. While there may be suggestions for ages that are most appropriate for each activity, do not let this information stop you from using the activity if you know it's the right one for your family.
Participate in a Memorial Service
Attending the memorial service held for your loved one may be something your child wishes to participate in.  It is up to your family to determine whether your child is ready for this activity. Listening to them and watching their progression through the grieving process will give you clues.
If your child is not ready for this, you can always choose to hold a ceremony of your own for you and your child.  Allow them to assist in planning such a service with you; this will provide a way for your child to assist in honoring your loved one. Some activities you may want to suggest to your child include the following:
Telling stories about your loved one
Reciting a poem
Planting a plant in their honor
Playing music or a favorite song
If there is a grave site, you may also choose to visit it after you've completed yourfamily's memorial
Watercolor Feelings
Mixing watercolors together allow your child to create an image that matches their feelings at that moment. This project is about process rather than creating a finished product. The process can be soothing as the child mixes the paints, and it can also be emotional. Allowing kids to explore what color matches their current mood has no right or wrong answer. Give yourself and your child the opportunity to explore their feelings verbally while you paint together.
Splat!
This activity is suggested by Camilleri as helpful when kids don't feel like talking (Camilleri, 2007). You already know that some children express their emotions verbally, and others do better expressing their emotions in a physical way.  Find a nice flat wall that you can throw things against, then explain that you're going to say something that makes you angry each time you throw a fake object that splats against the wall.  You can go first and show your child how it's done — throw your object and shout out something that's making you mad. Let your child take a turn, and go again! If the mood starts to lighten, you can switch things up and start shouting things that make you happy.    You can use this when your child is in the Anger stage of the grieving process, or any time they need to express themselves or feel out of control.
Blow Bubbles
Blowing bubbles can have a calming effect on children and adults alike.  Blowing bubbles forces you to pause, focus on a single activity, and think about your breathing.  Even this small moment of awareness can help to release tension and practice deep breathing which can help provide relief for stress and anxiety.  When you or your child exhales into the bubble wand, try to control your breath so you create the largest bubble possible before it pops.   This encourages to maximize control over your breath and remain focused on just the bubble.  This basic and simple activity may help reduce stress.
Some other ideas for bubble blowing include:
Visualization with Bubbles:  Bubbles are a great way to help kids visualize their emotions. Whether they are experiencing anger, stress, fear or other emotions, encourage the children to visualize each bubble as a negative emotion and watch it float away.  Talk about the things that are stressing them out and encourage them to release those things in the bubbles as they float away. For younger children, allow them to stomp on the bubbles as they land on the ground. In addition to being a good visual reminder of letting things go rather than keeping them buried inside, the process of blowing the bubbles also encourages deep breathing.
Bubble Karate Master:  Another option for bubbles is the Bubble Karate Monster. As you blow bubbles encourage kids to demonstrate their best karate moves to pop the bubbles. The only rule is no clapping the bubbles (that's too easy), kids must use their feet and open hands to karate chop the bubbles. In addition to the breathing mentioned above, this simple exercise gets kids moving and using cross lateral movements (where arms and legs cross the body). This type of activity is a great stress reliever, and you may want to join in the fun if you're feeling a little stressed yourself!
For more ideas on deep breathing activities, try https://copingskillsforkids.com/deep-breathing-exercises-for-kids/
Homemade play-doh
Making shapes and kneading Play-Doh or modeling clay is a relaxing activity for all ages.  Instead of buying commercial Play-Doh, try to this non-toxic play dough recipe.  To make it even more relaxing, add a few drops of lavender oil.
1 cup plain flour
1 tbsp. oil
1 cup water
½ cup salt
2 tbsp. cream of tartar
Food coloring
Pour all dry ingredients, flour, salt and cream of tartar together into a microwave heat proof container, casserole dish or bowl.
Add water and oil to dry ingredients. Add food coloring until desired color is achieved.
Mix together using a whisk to remove lumps and blend the ingredients well.
Cover and place in the microwave for 2 minutes on high.
Remove from microwave and stir with a wooden spoon.
Place in the microwave for 1 more minute, remove and stir to combine. Cook for a further minute if the play dough is still runny.
Turn out onto a clean surface and knead into a smooth ball. Be careful the play
dough will be very hot! Use a little bit of flour if the play dough is sticky.
Allow the play dough to cool before playing with it.
Store in a plastic zip lock bag or air tight container.
Create a Grieving Kit
This activity is one for a parent to create for the child. Put together a portable box filled with a variety of soothing items for your child to use to manage their feelings during the grieving process. Some examples are as follows:
Silly putty or a squeeze toy for when they're angry
A balloon to blow up when they need to let out a lot of air at once or bubbles for whenthey need to practice carefully inhaling and exhaling
Tissues for when they need to cry
A special item from your loved one for remembering them and providing comfort
Fidget items to assist with self-regulation when anxious, distracted, or worried
A card or note to remind your child how much you love them
Caring Cards (see back of the folder for activity cards)
Start a Journal
Expressing feelings reflective of the grieving process as well as thoughts about death and artwork can be very helpful for children who sometimes have a hard time getting the right words out.
With older children who are experiencing difficulty sharing their feelings, you may be able to get them started by showing them a photo of them and their loved one. Camilleri (2007) suggests writing prompts like "Write a journal entry as yourself at the time of this picture. Example: "I am Catherine. I am 8 years old and I feel…" or "Write a letter you would have liked to receive from someone in the picture. Example: "Dear Catherine…" They can also write a journal entry from the other person in the photo or simply tell the story of the day the photo was taken.
For younger children, a bereavement activity book can provide a great, structured way to work through their thoughts and feelings.  Many can be found online and downloaded free of charge on websites such as https://www.sesamestreet.org/toolkits/grief, or http://www.pbs.org/parents/whenfamiliesgrieve/resources.html.  We've included some sheets from these sites in the back of this folder; you may find them helpful to get you started.   There are also apps for ipads such as My Good Grief Journal For Kids App. 
Write a  Letter
Sometimes when people die we wish we could have one more conversation with them, especially during the Bargaining stage of grief. To help get these feelings out, you can write a letter or a card to your loved one who has died letting them know thoughts or feelings you wish you had been able to express before they died. If children are too young to write, they can dictate their message to you, and you can do the writing for them.
 Reliving Good Times
You or your child may have a particular activity you used to enjoy doing with your loved one who has died. When you're missing them, you can always dive into that activity together and share stories.   Some ideas include:
Creating a memory chain is one way to help your child relive some of their fond memories with their loved one, (see printable in the back of this folder for instructions).
Create a bowl of memories. Have everyone write down as many happy memories as they can on colorful scraps of paper, and place all those good thoughts into a bowl. Anytime someone experiences a surge in grief, they can grab one of those slips of paper and, at least for a moment, remember a happier time.  Children who can't yet write or spell can contribute drawings instead.
Cook a favorite dish, take a walk in a favorite place, play a board game, or do anything that was especially pleasurable for your loved one.
Make a Memory Book
These days our phones are filled with pictures along with our social media sites. Printing these photos and taking the time to make an album in memory of your loved one will spark discussion and creativity while creating a memento your family can use to remember your loved one or simply to visit when they feel sad and miss your loved one.
Beyond the photos you can include:
Mementos from times together, such as ticket stubs, receipts, cards,
Written poems, stories, or memories
Any samples of the loved one's handwriting from grocery lists, post-it notes,
Drawings of your loved one, or of memories or funny stories you shared
Postcards or photos of places you visited together
Get Planting
Creating a physical space of beauty to honor your loved one can provide your child with a place to visit to remember them. Are there plants that were significant to your relationship? A particular tree, bush, or flower you have memories of enjoying with them? You can also relate to your child that caring for this new plant or garden is a way to continue their love for whoever has passed.  
Resources
Camilleri, V. A. (2007). Healing the Inner City Child : Creative Arts Therapies with At- risk Youth. London: Jessica Kingsley Publishers.
Sesame Street in Communities, https://sesamestreetincommunities.org/topics/grief.
Acts of Kindness
The death of a loved one can leave us feeling small and powerless. Participating in an act of kindness on behalf of your loved one can leave you feeling more powerful and can provide a sense of purpose when that feels missing. You can do these activities as a family, or your child may want to do some on their own.
Show Kindness to Others Grieving Your Loved One
There are probably many people who are also feeling sad over the death of your loved one, such as their caregivers, friends, other relatives, or community members they had an impact on. You can help comfort one or more of them by preparing a care package including tissues, lozenges (or other items to soothe a throat that may be sore from crying), eye drops, a sympathy card.   Are there other personal things you could include?
If your loved one had care providers (i.e. hospice workers, nurses or doctors who provided extra good care and support, etc.), you may want to take this time to thank them. Consider sending these people a thank you note or care package as well.
Write a Letter
When a loved one dies, their family members are often sad because they will not be able to create any new memories with that person. Sharing your own stories of the person who died in a letter can give their family members new stories to enjoy again and again through reading your letter. Do you have stories that show how special your loved one was? How funny? How generous? What are special memories you'd like them to know about?
Make a Donation
Sometimes people die from diseases for which specific foundations are searching for cures. Donating money to such an organization in honor of your loved one may provide you with  a sense of fighting back against the sickness to which your loved one succumbed. If you don't have enough money to donate, perhaps you could make a care package to send to the people who work there, along with a story about your loved one and why they were so special.
If you offer to pay for a book for a public library, they will often be willing to put a memorial bookplate in the front. This book could be a favorite of your loved one, or it could be one that raises awareness of whatever illness caused the death of your loved one.
Participate in a Race, Marathon, or Fundraiser
Another way to contribute to causes that are fighting to save lives is by participating in a race, marathon, or fundraiser. Through these activities, foundations raise money to research ways to cure diseases or prolong life. Your participation as a family or individual isn't just about donating to a cause that is meaningful to you, it's also about participating in a healthy lifestyle that leads to a longer and more enjoyable quality of life.
Share an Activity Your Loved One Loved
Maybe it's something you did together, maybe it's something they had a special talent for. Regardless, walking in the footsteps of your loved one can provide you with insight into their life that you may not have previously had. Did they play the trombone? Pick one up and try it! Did they love fishing in a special spot? Head over there and give it a try! Did they have a favorite game they always wanted to play? Bust it out, and enjoy it again!
Set a Kindness Goal
Creating something positive out of your loss can give you a sense of purpose and power during a time when you may feel robbed of those things. To honor your loved one, you can set a kindness goal as a family or as individuals. Choose a number of acts of kindness   you'd like to do, and begin making the world a better place. These acts could remind you of your loved one or could be things you know your loved one would have liked to see you do.
On pages 24 & 25 of her book More Creative Coping Skills for Children, Bonnie Thomas offers the following ideas for ways to connect kindly with others:
Pocket full of Hearts Activity (see back of the folder for activity sheet)
Smile at
Do a chore at home without being asked
Call a relative to say hello and/or check on
Draw or write a kind note for your younger sibling and put it in their coat pocket,lunchbox, or backpack to find
Pick up
Tell someone you appreciate
Offer to help your teacher with the classroom clean-up.
Be generous and
Leave a lucky penny (or other good luck charm) for someone to
Thank someone for doing their job
Read a book to someone younger than you
Write a thank you note or draw a picture for your mail delivery person, and leave it inyour mailbox for
Use chalk to write a positive message for passersby on the sidewalk or
Give a loved one a
Make a card for your
Add your own ideas!
Resources
Thomas, B., (2016) More Creative Coping Skills: Activities, Games, Stories, and Handouts to Help Children Self-Regulate. Jessica Kingsley Publishers.
Community Resources – Loss of a Loved One
The following are resources you can explore in a face to face setting and others are for you to look up online.   This list is not all inclusive.  Finding support is an individualize approach and sometimes finding the right fit can take some time.  These resources are suggestions for starting points.
211 Infoline
In Connecticut, support help can be found through community resource directories including CT 211 Infoline.  211 Infoline helps connect people to the local services they need such as utility assistance, food, housing, child care, after school programs, elder care and crisis intervention.  Dial 2-1-1 or search online at www.211ct.org.   If you are outside of Connecticut or have a problem using the 2-1-1-number, dial 1-800-203-1234.
Teachers & Staff
Preparing your child's teacher about their loss will be important. Your child may exhibit a change in behavior and their teacher will need to know why this is happening. In addition, you can gain insight into your child's journey through their grieving process with the insight the teacher has about times when you aren't around. In addition to their teacher, your child may also have a special bond with someone from administration, someone who works in the school office, or a staff member who works in the cafeteria or on the custodial crew. If your child expresses the wish to discuss their loss with these people, it's fine for you to approach them to ask if they would feel comfortable.
School Social Worker/Counselor
Children often turn to their parents during periods of grief to discuss difficult topics like death, grief, and loss. We hope that this kit will provide you with the framework to honestly grieve with your children so that they heal and grow from this sad experience. However, if you feel you or your child are experiencing depression or anger that has gone on too long, we recommend you reach out to a counselor who can assist you.
If you think your child requires additional support, you can reach out to your school's social worker or counselor directly.  These individuals are skilled in providing counseling services to their students and can help your child begin to make sense of their emotions.  The amount of time these professionals have available to help your child will vary.  They are also able to provide resources and referrals for parents seeking additional information.
If you decide to seek support elsewhere, alerting your school guidance counselor or social worker to the event that has taken place will help everyone.   If your child already receives social work services at school, per an IEP (Individual Education Plan) or 504 Plan, you may want to inform that social worker so they can be better prepared to support your child during this time.
To find your schools social worker or counselor, check your school's webpage for phone numbers, or reach out to your child's teacher or main office directly.  You can also discuss the option with your child ahead of time to ensure that they feel they're a part of the process.
Family Members
Beyond your child's immediate family, there may be other family members who can help your child gain perspective and continue healing. A favorite cousin, aunt, or uncle is someone they may feel comfortable opening up to and who can then share with you what your child is experiencing. A family member may also be able to add some distraction and fun for your child. Encourage them to do something fun together to help your child focus on something more pleasant for a while.
Religious & Spiritual Leaders
No matter what religion you practice, there are people within that community for you and your child to communicate with. Especially if your child is struggling with the idea of faith at this time, these helpers can provide comfort and explanations that you, in your own period of grief, may not be able to offer. Even if it has been a long time since you practiced your religion, they will be prepared for you.
If you would like to reach out to a religious leader for the first time or to the religious leader of a new faith, this is also all right. In your journey of healing, seeking answers to new questions can be expected. Religious and spiritual leaders might provide support to a grieving child and family in the following ways: 1) Provide comfort and support around issues regarding death, dying, and grieving; 2) Aid in discussions about their particular version of faith/spirituality as it relates to life and death; 3) They often have resources of their own, such as church libraries or elders that can provide additional information and support to families; and 4) the actual community that the church (or other entity) belongs to sometimes offers outreach, meals, and other community support that can help a family in a time of grieving.
Mentors or Role Models
There are many adults or older children your child may look up to. Athletic coaches, arts directors, music tutors, librarians, neighbors, friends of the family, babysitters, after school care providers, camp counselors, and others are all types of mentors with which your child may interact regularly. If your child feels a connection with one of them and would like to discuss their loss, it's fine to reach out to the mentor or role model and ask if they'll talk with your child.
Community Support
Stratford Parents' Place Family Resource Center
718 Birdseye Street, Stratford, CT 06615
Phone: (203) 381-69992
Email:  johnsonst@stratk12.org
The Family Resource Center provides access to a broad continuum of early childhood and family support services which foster the optimal development of children and families. Stratford Parents' Place provides resource and referral; parent education and training programs; family support; and resource and referral to the community.  Parents' Place operates on a school schedule.
Stratford Library Children's Department
2203 Main Street, Stratford, CT 06615
Phone: 203-385-4165
Website: www.StratfordLibrary.org
Your local library will be able to assist you as your journey continues. They can help by locating additional community helpers and resources, finding the next book, website, or music to use in your healing journey, and more. In addition, their interlibrary loan programs will be able to expand the materials available to you. Give them a call or stop by to learn more.
Stratford Area Professional Counselors
Stratford Community Services
468 Birdseye Street, Stratford, Connecticut 06615
Phone: (203) 385-4095
Email: communityservices@townofstratford.com
The Child & Family Guidance Center
Stratford Clinic
80 Ferry Boulevard, Stratford, CT 06615
Phone: (203) 378-1654
Website:  www.cfguidance.com
Note:  Commercial insurance carriers can also reach out to their insurance company for in-network providers as well as check the Psychology Today website for providers in your area.
Connecticut Grief Support Organizations
Adam's House
241 Coram Ave., Shelton, CT 06484
Phone: (203) 513-2808
Website: http://www.adamshousect.org
https://www.facebook.com/AdamsHouseCT
Their "Helping Hearts Heal" program offers peer support that encourages the expression of grief through positive play, art and group discussions. Groups are available at no-cost. Children, ages 3 to 18, who are grieving the loss of a parent, grandparent, sibling or significant person are eligible for our program. Widow/Widowers groups meets monthly and are open to new members. Adam's House is conveniently located off Rt. 8 making it accessible to most Connecticut residents.
Camp Erin Connecticut
The Cove Center for Grieving Children
250 Pomeroy Ave Suite 107, Meriden, CT 06450
Phone: (203) 634-0500
Website: www.covect.org/camp-erin-ct
Camp Erin is a free, weekend bereavement camp for children and teens ages 6-17 who are grieving the death of someone close to them. It is a fun, traditional camp combined with grief education, peer bonding, and emotional support led by grief support professionals and trained volunteers.
The Cove Center for Grieving Children, Inc.
Coordinating Office for sites in West Hartford, New Haven, Guilford, Meriden, Stonington, East Hartford and Easton serving Newtown/Fairfield County CT
250 Pomeroy Avenue, Suite 107, Meriden, CT 06450
Phone: (203) 634-0500
Website: http://www.covect.org
The Cove provides free peer support group services for grieving children ages 4-18 throughout the state of CT at 7 Cove Family sites, as well as "Good Grief" School Programming, Professional Development Training and Community Outreach. The Cove partners with The Moyer Foundation to provide Camp Erin Connecticut.
Experience Camps
136 Main Street, Suite 207
Westport, CT 06880
Phone: (860) 850-0397
Website: http://www.experience.camp
Experience Camps provides free, one-week camps for boys and girls, ages 9-16, who have a parent, sibling or primary caregiver that died. It's a place where kids can laugh, cry, play, create, remember the person who died, or forget the grief that weighs them down. They can feel "normal", because everyone there has been through something similar and understands what it's like to lose someone important to them.
Healing Hearts Center for Grief and Loss
Regional Hospice and Home Care
30 Milestone Rd., Danbury, CT 06810
Phone: (203) 702-7400
Website: https://regionalhospicect.org/programs-services/healing-hearts-center-for-grieving-children-families/
The Healing Hearts Center for Grief and Loss is a program of Regional Hospice and Home Care, offering free support groups, workshops, and educational events to help children, teens and adults cope after the loss of a loved one.
Manitou Experience
P.O. Box 5099, Westport, Connecticut 06881
Phone: (917) 647-4249
Website: www.manitouexperience.org
Manitou Experience is a one-week summer camp for boys who have experienced a significant death-loss that helps build confidence, encourage laughter, and navigate grief through friendship, teamwork, activities, and the common bond of loss.  Their mission is to normalize the grief process and facilitate healthy integration of loss through peer support in a safe and nurturing environment.
Mary's Place
A Center for Grieving Children & Families
6 Poquonock Avenue, Windsor, CT 06095
Phone: (860) 688-9621
Website: http://marysplacect.org
Mary's Place provides peer grief support groups for Children ages 3-12 who have experienced the death of a parent or sibling; Teens ages 13-18 who have experienced the death of a parent, sibling or significant person; and for Young Widows and Widowers. All groups are ongoing and meet throughout the year. All programs are offered at no cost to families. Mary's Place is a resource to the Connecticut and Southwestern Massachusetts community.
The Center for Hope, Inc.
590 Post Road, Darien, CT 06820
Phone: (203) 655-4693
Website: http://centerforhope.org
The Center for HOPE provides comprehensive services for adults and children living with an illness, grieving a loss or coping with a life-altering circumstance. All counseling, support and education services are facilitated by specially-trained professionals in an atmosphere of hope and renewal.
The Den for Grieving Children
40 Arch Street, Greenwich, CT 06830
Phone: (203) 869-4848
Website: http://familycenters.org
 Family Centers is a private, nonprofit organization offering education, health and human services to children, adults and families in Fairfield County. More than 225 professionals and hundreds of trained volunteers work together to provide our communities with a wide range of responsive and innovative services.
 Camp Jonathan
New Milford Visiting Nurse & Hospice
68 Park Lane Road, New Milford, CT 06776
Phone: 860 354-2216
Website: www.newmilfordvna.org
A one week bereavement day camp at Saint John's Episcopal Church in New Milford, CT. for children ages 6 – 18 who have lost a significant person in their lives to death.
National Resources
National Alliance for Grieving Children  
The National Alliance for Grieving Children (NAGC) is a nonprofit organization that raises awareness about the needs of children and teens who are grieving a death and provides education and resources for anyone who supports them.
The Dougy Center:  The National Center for Greiveing Children and Families
The Dougy Center provides support in a safe place where children, teens, young adults, and their families grieving a death can share their experiences.
Additional Resources
"Five Stages of Grief" by Elisabeth Kubler Ross & David Kessler. Retrieved February 13, 2017, from http://grief.com/the-five-stages-of-grief/