NEW BOOKS ABOUT SCIENCE FICTION
OR TIME TRAVEL
Kids trying to fix the universe!
Aliens and evil scientists…
Travel back and forth through time…
Technology gone haywire!
All these far-out adventures and more are waiting for you on our shelves.
Come to the Stratford Library Children's Department and check out a new book about SCIENCE FICTION OR TIME TRAVEL you may have missed!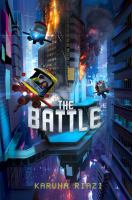 The Battle by Karuna Riazi (J Riazi)
Ahmad and his classmate Winnie must overcome the Mastermind and the Architect in this virtual game that froze time in NYC.
Blasting Through the Solar System! by John Himmelman (Bridge Book J Himmelman)
Professor Albert Hopper, frog and Science Hero, travels with his niece Polly and nephew Tad throughout the solar system, exploring the sun, asteroids and comets, and the planets.
A Dreidel in Time: A New Spin on an Old Tale by Marcia Berneger (JPB Berneger)
A brother and sister receive a strange Hanukkah gift and family heirloom–a magic dreidel that take them back in time to learn about the true meaning of Hanukkah.
Emily Windsnap and the Tides of Time by Liz Kessler (J Kessler)
When Emily makes a wish on a magic stone, she gets a glimpse of what the future holds — and it's a disaster!
Finn and the Time-Traveling Pajamas by Michael Buckley (J Buckley)
After sixty years of trying to stop Paradox and set the universe right again, Finn time-travels to get help from his nine-year-old self.
Jinxed by Amy McCulloch (J McCulloch)
After Lacey Chu repairs a highly advanced smartphone/robotic pet companion, or baku, called Jinx, the baku gets her into her dream school, Profectus, where she is exposed to dangerous secrets.
The Last Human by Zack Jordan (J Jordan)
The last human in the universe, a girl named Saraya, must battle alien intelligences and confront the truth about humanity.
Narwhal on a Sunny Night (The Magic Tree House) by Mary Pope Osborne (Bridge Books J Osborn)
The magic tree house whisks Jack and Annie away to Greenland where they discover they've traveled back in time to meet Lief Erikson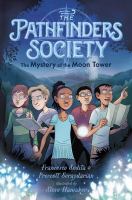 The Mystery of the Moon Tower (The Pathfinders Society) by Francesco Sedita and Prescott Seraydarian (J Comic Pathfinders Society)
Five kids are thrown together at summer camp, where they embark on a journey that will take them back and forth through time.
The Raconteur's Commonplace Book by Kate Milford (J Milford)
Nothing is what it seems and there's always more than one side to the story as a group of strangers trapped in an inn slowly reveal their secrets in this new standalone mystery set in the world of the best-selling Greenglass House.
Revenge of the Sis (Jedi Academy) by Jarrett J. Krosoczka (J Jedi)
Legendary Padawan Christina Starspeeder is a student at the advanced Jedi Academy Before, Christina was top of her class. But at this new school, it seems like everyone is on a different level.
Sal & Gabi Fix the Universe (Sal & Gabi #2) by Carlos Hernandez (J Hernandez)
Cuban-American Sal and Gabi must fix the multi-universe they broke in the first book and prevent Sal's father from accidentally causing a disaster.
A Time Traveler's Theory of Relativity by Nicole Valentine (J Valentine)
Finn learns that his supposedly-dead sister and his mother, who just disappeared, are time travelers. And only he can to save them.
Two Girls, a Clock, and a Crooked House by Michael Poore (J Poore)
After Amy is struck by lightning, she can see and understand things she never noticed before. She can communicate telepathically with a silent friend, Moo. Together, they, travel through time and face a child-eating witch.
Weird Little Robots by Carolyn Crimi (J Crimi)
When two science-savvy girls create an entire robot world, they don't expect the robots to come alive. But life may be a bit more magical than they thought.