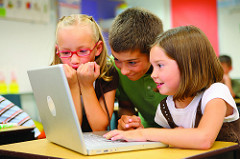 Tonight's Move 'n' Groove is canceled. We apologize for the inconvenience. Please join us in January.
Thursday, 12/8 at 6 pm. Hour of Code. Spend an hour learning how to program the computer! Ages 7-12.
Saturday, 12/10 at 10:30 am. Music Time. Ages 0-5. Just drop in!
Sunday, 12/11 at 2 pm. Create Star Wars crafts. Ages 6-12. Register from our events page. Jedis welcome.
Wednesday, 12/14 at 6 pm. Young at Art. Ages 1-5. Make a preschool masterpiece.
Saturday, 12/17 at 1:30 pm. Library LEGO Club. Ages 5-12. Register from the events page.
Questions? 203.385.4165
Image courtesy of Flickr user Lucelia Ribeiro