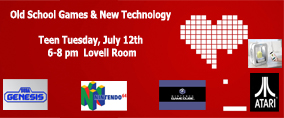 A fun night of old school video gaming featuring an Atari emulator, a Sega Genesis, a Nintendo 64, and a Nintendo GameCube.  Try your skills at MarioKart 64, MarioKart Double Dash, Super Smash Bros., Super Smash Bros. Melee, Diddy Kong Racing, the original Mario Party and more.
The flip side of Old School is New Technology-check out the 3D Printer and our uCreate space!
…and of course no Teen Tuesday is complete without some arts, crafts, board games, music and refreshments!

Join us-No registration required and bring a friend!
Tuesday July 12th from 6-8 pm in the Lovell Room.