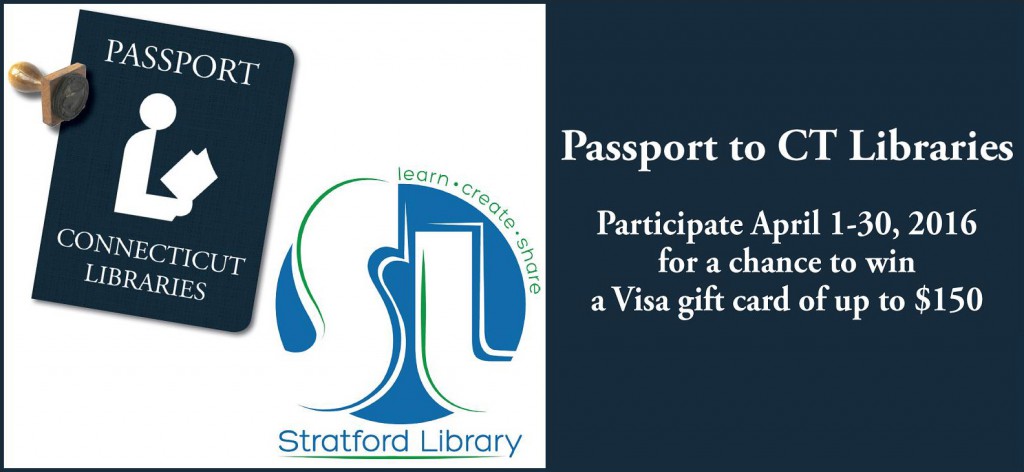 Every day your library card opens the world to you through books, audio books, music CDs and DVDs. To celebrate National Library Week in April, the Passport to Connecticut Libraries Program invites residents of all ages to explore the amazing diversity of our public libraries. Each library has its own unique architecture, vibe and collection to explore, browse, and discover!
To take part in our state-wide program, visit a local participating library to pick up your Passport. You will receive both a stamp and a token gift to get you started. Then, take your Passport along as you visit as many other participating libraries as you can. At each stop on your journey, you'll receive a stamp in your passport and another small gift when you show your library card.
Visit at least five (5) of the 123 participating libraries in April and then return your stamped passport to any participating library by May 6th to be entered into one state-wide drawing for a chance to win a $150 Visa gift card for adults (18 and up) or a $100 Visa gift card for children (under 18). This is a state-wide contest where four winners will be selected: one adult and one child from a random drawing of all participants who visited at least five libraries, and one adult and one child from a random drawing of participants who visited the most libraries.
For more details and a full list of participating libraries, stop by your local library.