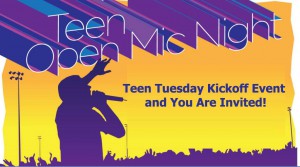 Join local teens for our
Teen Tuesday Kick-Off!
Open Mic Performance Night
Music, theatre, poetry, karaoeke-open mic event. Share your skills or just come check out the local talent! Guaranteed to be a fun night.

Tuesday July 5th — Stratford Library Lovell Room — 6-8 pm
Open to all students entering grade 7 and up.

Free / no registration necessary. Come alone or bring friends-just be there!