We have robots you can take home with you!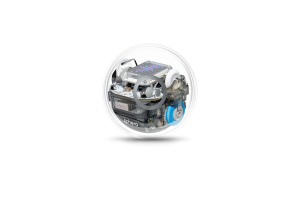 The Sphero Bolt and Sphero Mini are both available to borrow.
These educational devices require an app on your tablet or smartphone to work. You must have bluetooth enabled on your tablet or smartphone.
Before you can borrow them, you'll need to sign our agreement (PDF). Each case contains the Sphero, an info card, a charging cradle (for the Bolts), and a charging cable.
The Spheros must be returned to the check out desk. Do not put them in the book drop.
Please send any photos of the Spheros "in the wild" to ucreate@stratfordlibrary.org- we may feature them here or on social media (let us know if you don't want us to share them).
Charging the Sphero Bolt
Place the Sphero in the cradle heavy side down. A blinking blue light will indicate that it is charging. The Spheros take three hours to fully charge. 
Activity ideas
We encourage people to experiment and play with these educational robots.
You'll find lots of suggestions for activities on the Sphero blog: https://sphero.com/blogs/news/tagged/at-home