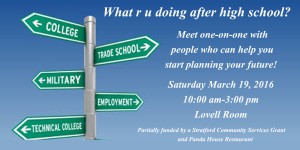 Not sure about what you want to do after high school?  Wondering if there are other choices than a 4 year college right now?
Stop by the library on Saturday March 19 between 10:00 am and 3:00 pm and discover all the options and choices you do have! The first 25 people that register will receive a 2 gig Stratford Library flash drive!
Among those scheduled to attend this year are:
Porter and Chester Institute, Lincoln Technical Institute and Lincoln Culinary Institute, American Institute of Healthcare and Technology, Branford Hall Career Institute, Housatonic Community College, Gateway Community College, Stratford Community Services , Stratford Continuing Ed, Stratford Police Dept., Stratford Fire Department, Stratford EMS, YouthWorks, The Milford Bank, Sikorsky Credit Union, The Mutual Security Credit Union, Tim's Auto Shop, Champion Electric, A G Painting , U.S. Army
This program is free, open to the public and not just for teens.  Call 203-385-4167 or stop by Teen Services for more information.
Partial funding provided by a Stratford Community Services Grant and Stratford's Panda House Restaurant.