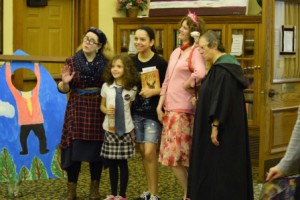 Wizard Tournament at Barnes & Noble
Calling all Harry Potter fans! Join the Stratford Library at Barnes & Noble of Milford on Friday, July 21 from 7-9 pm for a Wizard Tournament. Represent your favorite Magical School – Hogwarts or one of the others! and compete in 4 events in order to be entered into our magical Goblet of Fire for prize drawings. Costumes welcome!
Any purchases made that night – mention the Stratford Library at checkout – benefit the Stratford Library Children's Department. You can also shop in store July 21-26 to support the Library.
To register, visit our Events page or call 203.385.4165
And for dog lovers, we have a special preschool event at Barnes & Noble on July 21 from 6-6:45 pm in the Children's area. Meet Hero Dog Drago who helped in the Newtown Schools, play I Spy Dogs, and enjoy Downward Dog yoga! This event is geared toward ages 1-7, but all dog lovers welcome. Drago will be 'pawtographing' his book Loyal available for purchase.