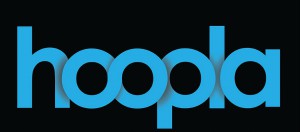 You asked and we are delivering! Now you can stream movies and TV shows from Stratford Library.  On your computer, your Hoopla digital checkout will stream just like a YouTube video OR if you're on a mobile device (like your tablet or smartphone), you can download your checkouts directly to the Hoopla app.
Download 5 items each calendar month; movies & TV shows go out for 3 days and then expire on their own, so you don't have to worry about late fees! Hoopla is available on your computer, iPad, iPhone, or Android device. We recommend using Firefox to watch Hoopla on your computer.
From a computer:
-Visit stratfordlibrary.org
-Go to Get It Online/Research
-Click on Hoopla!
-Click on the "Sign Up" button & register your library card
-Browse titles and check out
-Watch the movie from your computer
On a mobile device:
-Go to your app store
-Search for Hoopla Digital
-Install the app
-Create an account & register your library card
-Tap on the Hoopla icon to see the menu
-Tap on borrow to check out & watch a movie
If you have questions, stop by the Reference Desk and we'll help you get started!