FEATURED PROGRAMS
THEATRE:
Holocaust Remembrance Day Short Play Festival
Saturday, November 4 | 2pm | Lovell Room
"Remembrance", features four original Holocaust-themed one act plays. The staged readings commemorate the 85th anniversary of Kristallnacht, the night of broken glass which took placed in Germany on November 9-10, 1938. The program features short plays by Mark Lambeck and is directed by Lucy Babbitt, both of Stratford.
The show is free and open to the public. While reservations are not required, space is limited. Wearing masks is optional. Doors open at 1:30 p.m
FILM FESTIVAL:
Join the Library's annual festival of overlooked and little-seen films that critics raved about and the public somehow missed!
November 6-10 | 12pm | Lovell Room
Monday – Air
Tuesday – You Hurt My Feelings
Wednesday – Past Lives
Thursday – Theater Camp
Friday – Talk to Me
SUNDAY AFTERNOON TALK:
Slaves, Freemen & Haitians in the American Revolution
Sunday, November 12 | 2pm | Lovell Room
Historian Eric Chandler will speak about the people of color who were largely written out of the historic narrative of the American Revolution. They fought for both sides, rebels and redcoats, and often for the same reason – the opportunity for emancipation and freedom from chattel slavery.
CONCERT:
Live Jazz
Tuesday, November 28 | 7pm | Lovell Room
The Rich Meyers – Eumir Abela Jazz Duo will play for the first time in Stratford! The instrumentation of the group is Guitar and Vibraphone and their program consists of a mix of accessible jazz standards and popular tunes. They also provide commentary about their instruments.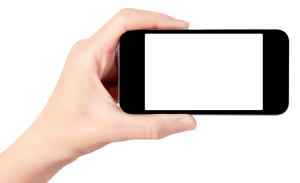 WORKSHOP: Surprise Photos with Your Cell Phone!
Monday, November 6 | 7pm | Lovell Room
The workshop leader is Dee Hiatt, of the Cell Photo Project currently exhibited at the library.
You will have the opportunity to practice:
1. Looking at your surroundings slowly and calmly.
2. Waiting to take a photo until you are intrigued by something.
3. Editing the photo, if necessary, while keeping the honesty of what you photographed.
4. Sharing your photos with the participants.
Bring your cell phone with you!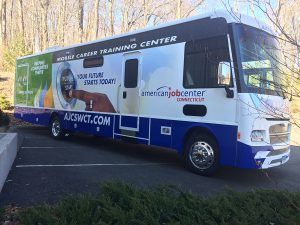 CAREER COACH: Job Search Help
Monday, November 13 | 10am to 12pm or 1 to 3pm | Bus parks on Main Street near the library front entrance.
Are you ready to take the next step in your career but feel lost in the world of job searching? An experienced job search coach will guide you throughout the workshop, providing one-on-one assistance tailored to your unique needs and goals.
Register HERE
TALK: Crafting & Caregiver 
Thursday, November 16 | 10:30am | Lovell Room
Join Christine Lyas, Social Service Coordinator, as she discusses the benefits of adult day programs for adults with mild Alzheimer's and Dementia and available support for caregivers, Jill Taricani, Ahrens Respite Program Coordinator will lead a craft for those in attendance. Presented by the Ahrens Respite Program at the Milford Senior Center in conjunction with the Stratford Library.
Play it Again, Square One: The Thanksgiving Play
Monday, November 27 | 12pm | Lovell Room
Join the cast of the Square One Theatre Company's recent production of THE THANKSGIVING PLAY by Larissa Fasthorse. Meet the cast! Bring your questions!
BOOKS:
Monday Morning Buzz
Monday, November 6| 11am | Board Room
Stop in to hear what's new, what's hot, and what books are creating a buzz! Staff will lead an informal discussion of books, movies and more. Share what you're reading and watching and hear from others!
Little Gems Book Discussion

Wednesday, November 8 | 11am | Lovell Room
A PSALM FOR THE WILD-BUILT by Becky Chambers
Join our discussion as we explore the 2022 Hugo Award-winning novella A Psalm for the Wild-Built by Becky Chambers. Dex, a tea monk, leaves The City with plans to travel the countryside offering tea and a listening ear to anyone who needs it. Along the way, there are setbacks, as well as surprising developments, including crossing paths with a self-aware robot.
Copies available at the Check-Out Desk.
Audio download available through the Hoopla App.
Books on Tap
Books, Brews, and Bantor

Tuesday, November 14 | 7pm to settle, 7:30pm to talk
Join us at the Oar and Oak Restaurant located at 2385 Main St, Stratford.
We will be discussing THE MEASURE by Nikki Erlick
The Measure follows eight people after they, like the rest of the world, receive a box containing a string that designates their lifespan. The book explores how these people's lives and relationships change as a result of knowing the length of their lives or choosing not to know at all.
Copies available at the Check-Out Desk.
E-book download available through the Hoopla App.
Books Over Coffee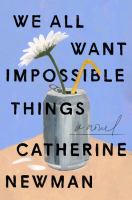 Wednesday, November 29 | noon | Lovell Room
WE ALL WANT IMPORRIBLE THINGS by Catherine Newman
A riotously funny and fiercely loyal love letter to female friendship. For lovers of Meg Wolitzer, Maria Semple, and Jenny Offill or anyone who's ever lost a friend or had one. Get ready to laugh through your tears.
Copies available at the Check-Out Desk.
Audio & e-book download available through the Hoopla App.
CREATE:
Coloring & Coffee
Fridays, November 3  & 17 | 11 am | Lovell Room
Monday, November 6 | 6pm | Lovell Room
Don't let stress get you down! Try coloring for adults! Coloring has many benefits including helping you to focus and de-stress. Stop in and give it a try. The Library will supply coloring pages, colored pencils and markers, plus coffee and tea. You are welcome to bring your own supplies too.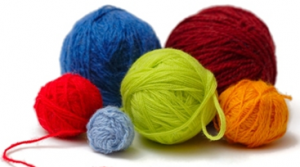 Knit Wits
Wednesday, November 8 | 6pm | Lovell Room
Wednesday, November 29 | 6pm | Board Room
Join the library's drop-in knitting program! Also crochet! Make new friends, get tips and share ideas while working on your own projects. Held every other Wednesday evening 6:00-7:30pm.
MOVIES: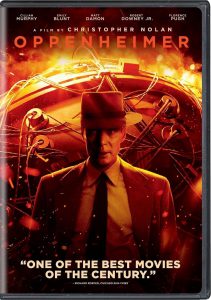 Monday Matinees: OPPENHEIMER
Monday, November 13 | 12pm | Lovell Room
Written for the screen and directed by Christopher Nolan, Oppenheimer thrusts audiences into the mind of physicist J. Robert Oppenheimer, whose landmark work on the Manhattan Project created the first atomic bomb. 
180 minutes, Rated R