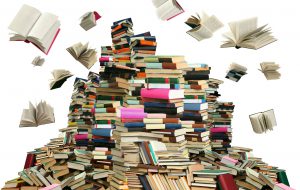 The Read Around Stratford program is open to all children grades Kindergarten through six, encouraging personal reading adventures each month! Families can sign up in the Children's Department anytime to receive that month's reading challenge.
Our November challenge is "Battle of the Books." Pick up the list of books in the Children's Department and pick a pair of battle books to read and vote on. Some of our battle books include popular authors, classic authors, and fun nonfiction pairings. Children can, of course, be read to or read on their own. Audiobooks count, too. November challenges are due December 7.
Children can add gems to their lighthouse display each month they participate, and a special party honoring children who complete three challenges will take place in April 2020. Thank you to the Carol Pieper Memorial Fund for sponsoring this program.