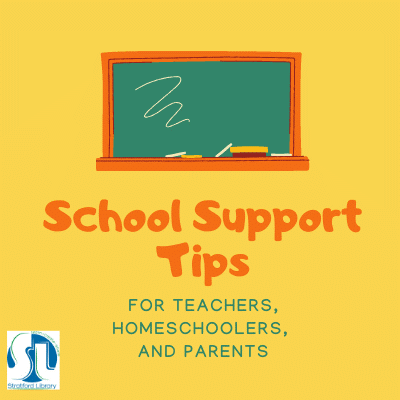 Every Monday, we'll be posting School Support Tips to help families learning at home. Welcome! 
The Stratford Library Children's Department is now open!
We are back on the second floor, with a new look.
Although the new furniture has not yet arrived, you'll be able to see the changes we have made during the renovation.
A few collections have been moved, so please ask us if you need help looking for something.
Library hours are:
Monday & Thursday from 10 am – 5 pm
Tuesday & Wednesday from 1 pm – 8 pm
Friday & Saturday from 10 am – 5 pm
Call us at 203-385-4165 or email childrens@stratfordlibrary.org for more information.
DO-IT-YOURSELF STORYTIME
Do you want to do a library storytime but our online morning programs don't fit into your schedule?
No worries! You can look up our DIY Storytimes and choose any theme to do whenever you want.
Each DIY Storytime includes online links to read-aloud books, crafts, activities, songs and a printable coloring sheet.
A new storytime will be posted every Saturday at stratfordlibrary.org/kids/
To find all the themes, put your mouse over the Kids tab on our website, then click on DIY Storytimes.