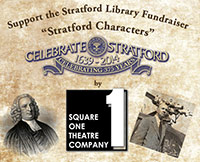 Square One Theatre Company and the Library celebrate Stratford's 375th anniversary.
The Library, in conjunction with the Square One Theatre Company, will hold a special benefit performance for the Library of Steven Otfinoski's "Stratford Characters", part of Square One's 25th landmark season honoring Stratford's 375th Anniversary.
"Stratford Characters" features dramatic monologues, each laced with lively humor and poignancy, by famous people from Stratford's past. The play has already been presented in England as part of the Stratford-Upon-Avon Annual Festival of the Arts. Originally written for Stratford's 350th landmark and now in celebration of the Town's 375th anniversary, this original work by Stratford playwright Steven Otfinoski introduces such local historical notables as Captain John Selby, Igor Sikorsky, Adam Blakeman, William Samuel Johnson and Goody Bassett among others.
Co-chairmen for the event are Stratford Library Board members Meg Bachtel and Judith Hampel.
Thursday, December 18, 2014 @ 7 pm
Tickets: $20
Tickets are available at the Library Check-Out Desk.
Performance at:
Square One Theatre Company
2422 Main Street
Stratford, CT
Call: 203.385.4162 for further info.