It's going to be sweater weather this week! Are you ready? While you're pulling out the sweaters, blankets, and cozy socks, check out what the Library has to offer this week! And be sure to check our calendar for a sneak peek of November events. Happy fall!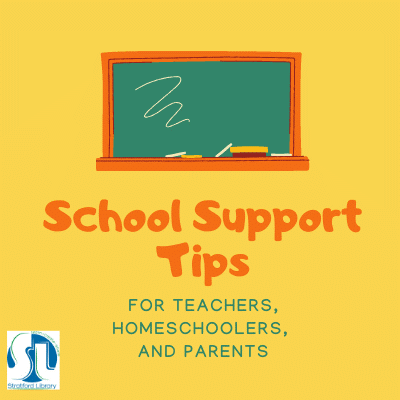 School Support Tips
On Mondays (right here!), we post tips for learning. This week's tip is using the Library catalog.
Alphabet Parade
Wednesdays at 3:30 – ages 4-6. We'll march through the alphabet, one letter each week. This is a short, 15 minute program on Zoom. This week's letter is M. Register. 
Phonics Parade
Wednesdays at 4 pm. Ages 5-8. This is a short program in which we'll play silly games that explore sounds within words, writing, and sight words. Register. 
Thursday, October 29 at 10:30 am
Baby Lapsit for ages 0-1. Register. 
Thursday, October 29 at 6:30 pm
Homework Helpers online for grades K-6. Help in math, reading, spelling, and science. Register. 
Saturday, October 31
DIY Storytime – Vote 
Check out our website for a storytime to enjoy anytime at www.stratfordlibrary.org/kids. New storytimes posted on Saturdays.
Contribute a Recipe
The Library is celebrating our 125th anniversary with a commemorative cookbook of Stratford recipes. Please submit a recipe and/or preorder a copy here.