February may almost be over, but we wanted to highlight a few books for Black History month that you may have missed. Interested in reading one? Click on the title to go to the library catalog and place a hold.
A Black Women's History of the United States by Daina Ramey Berry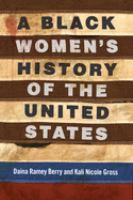 A Black Women's History of the United States is a critical survey of black women's complicated legacy in America, as it takes into account their exploitation and victimization as well as their undeniable and substantial contributions to the country since its inception.
Educated for Freedom: The Incredible Story of Two Fugitive Schoolboys Who Grew Up to Change a Nation by Anna Mae Duane
James McCune Smith and Henry Highland Garnet met as schoolboys at the Mulberry Street New York African Free School, an educational experiment created by founding fathers who believed in freedom's power to transform the country. Smith and Garnet's achievements were near-miraculous in a nation that refused to acknowledge black talent or potential. The sons of enslaved mothers, these schoolboy friends would go on to travel the world, meet Revolutionary War heroes, publish in medical journals, address Congress, and speak before cheering crowds of thousands. The lessons they took from their days at the New York African Free School #2 shed light on how antebellum Americans viewed black children as symbols of America's possible future. The story of their lives, their work, and their friendship testifies to the imagination and activism of the free black community that shaped the national journey toward freedom.
Four Hundred Souls: A Community History of African America, 1619-2019 edited by Ibram X. Kendi and Keisha Blain
A "choral history" of African Americans covering 400 years of history in the voices of 80 writers, edited by the bestselling, National Book Award-winning historian Ibram X. Kendi and Keisha N. Blain. Last year marked the four hundredth anniversary of the first African presence in the Americas–and also launched the Four Hundred Souls project, spearheaded by Ibram X. Kendi, director of the Antiracism Institute of American University, and Keisha Blain, editor of The North Star. They've gathered together eighty black writers from all disciplines — historians and artists, journalists and novelists–each of whom has contributed an entry about one five-year period to create a dynamic multivoiced single-volume history of black people in America.
Overground Railroad: The Green Book and the Roots of Black Travel in America by Candacy A Taylor
The first book to explore the historical role and residual impact of the Green Book, a travel guide for black motorists. Published from 1936 to 1966, the Green Book was hailed as the "black travel guide to America." At that time, it was very dangerous and difficult for African-Americans to travel because black travelers couldn't eat, sleep, or buy gas at most white-owned businesses. The Green Book listed hotels, restaurants, gas stations, and other businesses that were safe for black travelers. It was a resourceful and innovative solution to a horrific problem. It took courage to be listed in the Green Book, and 'Overground Railroad' celebrates the stories of those who put their names in the book and stood up against segregation. It shows the history of the Green Book, how we arrived at our present historical moment, and how far we still have to go when it comes to race relations in America.
Race for Profit: How Banks and the Real Estate Industry Undermined Black Homeownership by Keeanga-Yamahtta Taylor
Keeanga-Yamahtta Taylor offers a … chronicle of the twilight of redlining and the introduction of conventional real estate practices into the Black urban market, uncovering a transition from racist exclusion to predatory inclusion. Widespread access to mortgages across the United States after World War II cemented homeownership as fundamental to conceptions of citizenship and belonging. African Americans had long faced racist obstacles to homeownership, but the social upheaval of the 1960s forced federal government reforms. In the 1970s, new housing policies encouraged African Americans to become homeowners, and these programs generated unprecedented real estate sales in Black urban communities. However, inclusion in the world of urban real estate was fraught with new problems. As new housing policies came into effect, the real estate industry abandoned its aversion to African Americans, especially Black women, precisely because they were more likely to fail to keep up their home payments and slip into foreclosure.
Smoketown: The Untold Story of the Other Great Black Renaissance by Mark Whitaker
The other great Renaissance of black culture, influence, and glamour burst forth joyfully in what may seem an unlikely place–Pittsburgh, PA–from the 1920s through the 1950s. Today black Pittsburgh is known as the setting for August Wilson's famed plays about noble but doomed working-class strivers. But this community once had an impact on American history that rivaled the far larger black worlds of Harlem and Chicago. It published the most widely read black newspaper in the country, urging black voters to switch from the Republican to the Democratic Party and then rallying black support for World War II. It fielded two of the greatest baseball teams of the Negro Leagues and introduced Jackie Robinson to the Brooklyn Dodgers. Pittsburgh was the childhood home of jazz pioneers Billy Strayhorn, Billy Eckstine, Earl Hines, Mary Lou Williams, and Erroll Garner; Hall of Fame slugger Josh Gibson–and August Wilson himself. Some of the most glittering figures of the era were changed forever by the time they spent in the city, from Joe Louis and Satchel Paige to Duke Ellington and Lena Horne. Mark Whitaker's Smoketown is a captivating portrait of this unsung community and a vital addition to the story of black America. It depicts how ambitious Southern migrants were drawn to a steel-making city on a strategic river junction; how they were shaped by its schools and a spirit of commerce with roots in the Gilded Age; and how their world was eventually destroyed by industrial decline and urban renewal. Whitaker takes readers on a rousing, revelatory journey–and offers a timely reminder that Black History is not all bleak.
The Black Cabinet: The Untold Story of African Americans and Politics during the Age of Roosevelt by Jill Watts
In 1932 in the midst of the Great Depression, Franklin Delano Roosevelt won the presidency with the help of key African American defectors from the Republican Party. At the time, most African Americans lived in poverty in the South, denied citizenship rights and terrorized by white violence. But Roosevelt's victory created the opportunity for a group of African American intellectuals and activists to join his administration as racial affairs experts. Known as the Black Cabinet, they organized themselves into an unofficial council. They innovated antidiscrimination policy, documented the New Deal's inequalities, led programs that lifted people out of poverty and paved the way for greater federal accountability to African Americans and a greater black presence in government. But the Black Cabinet never won official recognition from Roosevelt, and with his death, it disappeared from history. This is its story.
The Black Church: This is Our Story, This is Our Song by Henry Louis Gates, Jr.
A powerful new history of the Black church in America as the Black community's abiding rock and its fortress. This is the companion book to the PBS series The Black Church. The book and series trace the 400-year journey of the Black Church in America, exploring how it became the center of Black culture in American life and politics.
The Rise: Black Cooks and the Soul of American Food by Marcus Samuelsson
It is long past time to recognize Black excellence in the culinary world the same way it has been celebrated in the worlds of music, sports, literature, film, and the arts. Black cooks and creators have led American culture forward with indelible contributions of artistry and ingenuity from the start, but Black authorship has been consistently erased from the story of American food. Now, in The Rise, chef, author, and television star Marcus Samuelsson gathers together an unforgettable feast of food, culture, and history to highlight the diverse deliciousness of Black cooking today. Driven by a desire to fight against bias, reclaim Black culinary traditions, and energize a new generation of cooks, Marcus shares his own journey alongside 150 recipes in honor of dozens of top chefs, writers, and activists–with stories exploring their creativity and influence.
U.S. Civil Rights Trail: A Traveler's Guide to the People, Places, and Events That Made the Movement by Deborah D. Douglas
The U.S. Civil Rights Trail offers a vivid glimpse into the story of Black America's fight for freedom and equality. From eye-opening landmarks to celebrations of triumph over adversity, experience a tangible piece of history with Moon U.S. Civil Rights Trail. Includes flexible itineraries, historic civil rights sites, the culture of the movement, expert insight, travel tools, and detailed coverage of Charleston, Atlanta, Selma to Montgomery, Birmingham, Jackson, the Mississippi Delta, Little Rock, Memphis, Nashville, Raleigh, Durham, Virginia, and Washington DC.
Vanguard: How Black Women Broke Barriers, Won the Vote, and Insisted on Equality for All by Martha S. Jones
According to conventional wisdom, American women's campaign for the vote began with the Seneca Falls convention of 1848 and ended with the ratification of the Nineteenth Amendment in 1920. The movement was led by storied figures such as Elizabeth Cady Stanton and Susan B. Anthony. But this women's movement was an overwhelmingly white one, and it secured the constitutional right to vote for white women, not for all women. In Vanguard, acclaimed historian Martha Jones offers a sweeping history of African American women's political lives in America, recounting how they fought for, won, and used the right to the ballot and how they fought against both racism and sexism. From 1830s Boston to the passage of the Voting Rights Act in 1965 and beyond to Shirley Chisholm, Stacey Abrams, and Kamala Harris, Jones excavates the lives and work of black women who, although in many cases suffragists, were never single-issue activists. She recounts the lives of Maria Stewart, the first American woman to speak about politics before a mixed audience of men and women African Methodist Episcopal preacher Jarena Lee Reconstruction-era advocate for female suffrage Frances Ellen Watkins Harper Boston abolitionist, religious leader, and women's club organizer Eliza Ann Gardner, and other hidden figures who were pioneers for both gender and racial equality. Revealing the ways black women remained independent in their ideas and their organization, Jones shows how black women were again and again the American vanguard of women's rights, setting the pace in the quest for justice and collective liberation. In the twenty-first century, black women's power at the polls and in politics is evident. Vanguard reveals that this power is not at all new, but is instead the culmination of two centuries of dramatic struggle.
Wilmington's Lie: The Murderous Coup of 1898 and the Rise of White Supremacy by David Zucchino
By 1898 Wilmington, North Carolina, was a shining example of a mixed-race community-a bustling port city with a thriving African American middle class and a government made up of Republicans and Populists, including black alderman, police officers, and magistrates. But across the state-and the South-white supremacist Democrats were working to reverse the advances made by former slaves and their progeny. They were plotting to take back the state legislature in the November 8th election and then use a controversial editorial published by black newspaper editor Alexander Manly to trigger a "race riot" to overthrow the elected government in Wilmington. With a coordinated campaign of intimidation and violence, the Democrats sharply curtailed the black vote and stuffed ballot boxes to steal the 1898 mid-term election. Two days later, more than 2,000 heavily armed white nightriders known as Red Shirts swarmed through Wilmington, terrorizing women and children and shooting at least sixty black men dead in the streets. The rebels forced city officials and leading black citizens to flee at gun point while hundreds of local African Americans took refuge in nearby swamps and forests. This brutal insurrection is the only violent overthrow of an elected government in U.S. history. It halted gains made by blacks and restored racism as official government policy, cementing white rule for another seventy years. It was not a "race riot" as the events of November 1898 came to be known, but rather a racially-motivated rebellion launched by white supremacists. In Wilmington's Lie, David Zucchino uses contemporary newspaper reports, diaries, letters, and official communications to create a gripping narrative that weaves together individual stories of hate, fear, and brutality. This is a dramatic and definitive account of a remarkable but forgotten chapter of American history.
The Three Mothers: How the Mothers of Martin Luther King, Jr., Malcolm X, and James Baldwin Shaped a Nation by Anna Malaika Tubbs
Much has been written about Berdis Baldwin's son James, about Alberta King's son Martin Luther, and Louise Little's son Malcolm. But virtually nothing has been said about the extraordinary women who raised them. In The Three Mothers, scholar Anna Malaika Tubbs celebrates Black motherhood by telling the story of the three women who raised and shaped some of America's most pivotal heroes.
Jubilee: Recipes from Two Centuries of African American Cooking by Toni Tipton-Martin
Adapted from historical texts and rare African-American cookbooks, the 125 recipes within this book paint a rich, varied picture of the true history of African-American cooking: a cuisine far beyond soul food.
Unseen: Unpublished Black History from the New York Times Photo Archives by Darcy Eveleigh
Hundreds of stunning images from black history have long been buried in the New York Times archives. None of them were published by the Times–until now. 'Unseen' uncovers these never-before published photographs and investigates the stories behind them.
Sweet Home Cafe Cookbook: A Celebration of African American Cooking by Albert Lukas and Jessica B. Harris
A celebration of African American cooking with 109 recipes from the National Museum of African American History and Culture's Sweet Home Café Since the 2016 opening of the National Museum of African American History and Culture, its Sweet Home Café has become a destination in its own right. Showcasing African American contributions to American cuisine, the café offers favorite dishes made with locally sourced ingredients, adding modern flavors and contemporary twists on classics. Now both readers and home cooks can partake of the café's bounty: drawing upon traditions of family and fellowship strengthened by shared meals, Sweet Home Café Cookbook celebrates African American cooking through recipes served by the café itself and dishes inspired by foods from African American culture. With 109 recipes, the sumptuous Sweet Home Café Cookbook takes readers on a deliciously unique journey. Presented here are the salads, sides, soups, snacks, sauces, main dishes, breads, and sweets that emerged in America as African, Caribbean, and European influences blended together. Featured recipes include Pea Tendril Salad, Fried Green Tomatoes, Hoppin' John, Sénégalaise Peanut Soup, Maryland Crab Cakes, Jamaican Grilled Jerk Chicken, Shrimp & Grits, Fried Chicken and Waffles, Pan Roasted Rainbow Trout, Hickory Smoked Pork Shoulder, Chow Chow, Banana Pudding, Chocolate Chess Pie, and many others. More than a collection of inviting recipes, this book illustrates the pivotal–and often overlooked–role that African Americans have played in creating and re-creating American foodways. Offering a deliciously new perspective on African American food and culinary culture, Sweet Home Café Cookbook is an absolute must-have. Since the 2016 opening of the National Museum of African American History and Culture, its Sweet Home Café has become a destination in its own right. Showcasing African American contributions to American cuisine, the café offers favorite dishes made with locally sourced ingredients, adding modern flavors and contemporary twists on classics. With African, Caribbean, and European influences blended together, the recipes illustrate the pivotal– and often overlooked– role that African Americans have played in creating and re-creating American foodways.