New Graphic Novels You May Have Missed
Cute animals and fantastic creatures…
Superheroes and kids just like you…
Adventures in the past, present and future…
Humor, drama, mystery, and nonfiction…
No matter what your interest or reading level, there's something in our J Comic collection for every type of reader.
Come to the Stratford Library Children's Department and check out a new Graphic Novel you may have missed!
Aquicorn Cove by Katie O'Neill (J Comic Aquicorn Cove)
Unable to rely on the adults in her storm-ravaged seaside town, a young girl must protect a colony of magical seahorse-like creatures she discovers in the coral reef.
Batman Overdrive by Shea Fontana (J Comic Batman Overdrive)
A teenage pre-Batman Bruce Wayne hones his detective and combat skills and begins building the Batmobile while still processing the pain of his parents' death.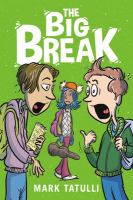 The Big Break by Mark Tatulli (J Comic Big Break)
Two ex-best friends get back together to hunt down the mythical Jersey Devil.
The Boy Who Became a Dragon: A Bruce Lee Story by Jim DiBartolo (J Comic Bruce Lee)
A biography of the martial arts legend.
Camp by Kayla Miller (J Comic Click)
Olive is quick to make friends with other campers, but Willow is having a hard time. Being Willow's only friend is stressful for Olive. Will their friendship survive summer camp?
CatStronauts Book 5: Slapdash Science by Drew Brockington (J CatStronauts)
When one of Pom Pom's botany experiments goes awry on the International Space Station, the CatStronauts must find a way to tame the weeds gone haywire and get back to Earth without help from Mission Control.
Catwad by Jim Benson (J Catwad)
Catwad is a grumpy blue cat. His best friend is a happy-g-lucky cat named Blurmp who tries to cheer him up.
Class Act by Jerry Craft (J Comic Class Act)
A companion book to the award-winning New Kid. 8th grader Drew works hard to feel accepted at Riverdale Academy Day School.
Comics Easy as ABC by Ivan Brunetti (J Comic Toons)
Veteran cartoonists offer advice and techniques for making simple comics.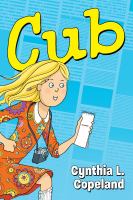 Cub by Cynthia Copeland (J Comic Cub)
In 1972, Cindy tries to avoid junior high school bullies while working an internship as a cub reporter at a local newspaper.
EndGames by Ru Xu (J Comic Endgames)
In this futuristic graphic novel, Blue searches for her robot friend while the war between two countries rages on.
Green Lantern Legacy by Minh Lê (J Comic Green Lantern)
When thirteen-year-old Tai Pham inherits his grandmother's jade ring, he soon finds out he has been inducted into a group of space cops known as the Green Lanterns.
Kitten Construction Company – A Bridge Too Fur by John Patrick Green (J Comic Kitten)
Marmalade and her crew of construction kittens are hired to build the Mewburg Bridge. But the bridge must cross the one thing cats hate most of all – water! Graphic novel.
Lost Sloths by Graham Annable (J Comic Peter & Ernesto)
A hurricane came and blew away Peter & Ernesto's favorite tree. Now they must work together to find a new tree in a jungle full of dangers.
Lupin Leaps In! by Georgia Dunn (J Comic Breaking Cat News)
Three adorable house cats are reporting the most hilarious breaking news!
Meg, Jo, Beth and Amy by Terciero & Indigo (J Comic Meg)
A retelling of the classic story, Little Women.
The Midwinter Witch by Molly Ostertag (J Comic Witch Boy)
Aster always looks forward to the Midwinter Festival, which includes competitions in witchery and shapeshifting. But when a powerful force invades the reunion, the witches must find the courage to fight it together before it destroys everything.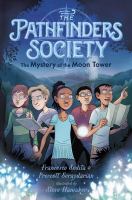 The Mystery of the Moon Tower by Sedita & Seraydarian (J Comic Pathfinders Society)
Five kids at camp follow mysterious clues left by the camp's founder that could lead to the rumored lost treasure of Windrose.
Narwhal's Otter Friend by Ben Clanton (J Comic Narwhal)
Exuberant Narwhal and skeptical Jelly test the waters of adding a new friend to their pod when they meet Otty the super-adventurous otter.
Nico Bravo and the Hound of Hades by Mike Cavallaro (J Comic Nico Bravo)
Can Nico stop Eowulf from unleashing a zombie apocalypse?
The Okay Witch by Emma Steinkellner (J Comic Okay Witch)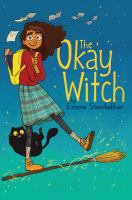 Half-witch Moth Hush discovers the truth about herself, her family, and her town while doing her best to survive middle school.
Operation: Hat Heist! (Middle School Misadventures) by Jason Platt (J Comic Middle School)
When Newell's very special hat is taken away at school, he and his most talented friends concoct the perfect plan to get it back.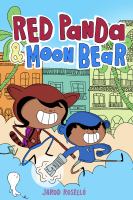 Red Panda Moon Bear by Jarod Rossello (J Comic Red Panda)
Panda siblings fight ghosts, robots, and alien invaders.
The Red Zone, an Earthquake Story by Silvia Vecchini (J Comic Red Zone)
When an earthquake destroys a small town in Italy, Matteo and his friends have to figure out how to help their community rebuild. Based on a real event in 2016.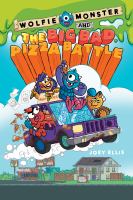 Wolfie Monster and the Big Bad Pizza Battle by Joey Ellis (J Comic Wolfie Monster)
Three monster brothers get into trouble in a wacky adventure to save their failing pizza parlor!