Enjoy this Do-It-Yourself Storytime on Umbrellas whenever is convenient for your family.
Umbrellas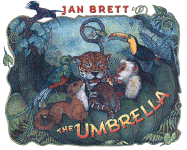 The Umbrella
• Written and illustrated by Jan Brett
• Published by G.P. Putnam's Son Books for Young Readers
• Presented by Mr. Baker's Bookshelf
Animals from the Costan Rican rain forest take a ride in an umbrella.
https://video.link/w/5HRbc
Learn more about the rain forest animals in the book with PreKinders:
https://www.prekinders.com/the-animals-of-the-umbrella/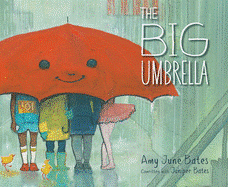 The Big Umbrella
• Written by Amy June Bates
• Illustrated by Juniper Bates
• Published by Simon & Schuster
• Presented by Rebekah Wall
This big, red umbrella loves to shelter everyone, no matter who they are or what they look like.
https://video.link/w/EIRbc
Artsy Craftsy Mom has a great idea for a Rainy Day Paper Collage craft:
https://artsycraftsymom.com/rainy-day-collage/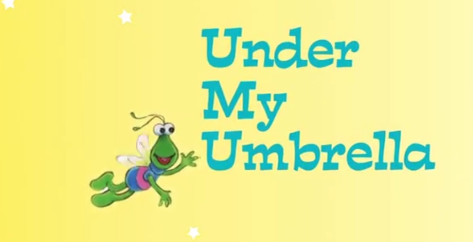 Under My Umbrella
• Written illustrated, and produced by Sesame Street
• Presented by Layla's Toys
A cute story using the letter "U."
https://video.link/w/zkmcc
Little Food Junction has a fun idea for an umbrella-shaped, healthy snack:
http://www.littlefoodjunction.com/2014/04/spring-rain.html#.YFKBqxYpDct
SONGS:
Umbrella by The Laurie Berkner Band
https://video.link/w/MKRbc
Under the Big Umbrella by Brady Rymer and the Little Band That Could
https://video.link/w/FLRbc
Ella's Umbrella by Will's Jams
https://video.link/w/7MRbc
RHYMES AND FINGERPLAYS:
New Umbrella
(Tune: I'm A Little Teapot)
Here's my new umbrella, (pretend to hold up an umbrella)
Wide and high. (open arms wide)
It keeps me cozy, warm and dry. (hug yourself)
If the rain starts falling from the sky, (wiggle fingers like raindrops falling)
Just open me up and you'll stay dry. (pretend to open umbrella, twirl around)
Umbrella Colors
We keep our umbrellas, so that we may,
Have them all ready for a rainy day.
Here is a green one to keep me dry
When I open it up and hold it up high.
Have you seen the umbrella that's ruby red?
It looks so regal held over my head.
The rain may pour down and that is why
I've my purple umbrella to keep me dry.
I love the umbrella of sweet sky blue.
It's big enough for both me and you.
The yellow umbrella is bright like the sun.
It makes puddle- jumping seem so much fun.
The orange umbrella is saved for showers,
The kind of rain that wakes up the flowers.
Our umbrellas are fun and so nice to see.
Just look at them all, I'm sure you'll agree.
U-M-B-R-E-L-L-A
(tune: My Bonnie Lies Over the Ocean)
I'm singing a song for umbrella
Which starts off with the letter U
And here are all the other letters
So you can spell "umbrella," too,
U-M-B-R-E-L-L-A
Spells Umbrella
U-M-B-R-E-L-L-A
Good for you!