ANIMAL FICTION
Brave rabbits and hero cats…
Dogs in peril and dogs that heal…
Animal astronauts and adventurers…
Kids who will do anything to get a pet…
Even a boy who can talk to dead pets…
If you like animals, we have a book for you. Some books feature realistic animals, some are talking animals, but all are great reads.
Come to the Stratford Library Children's Department and check out a new ANIMAL FICTION BOOK you may have missed! Shop the whole list. 
Alice's Farm: A Rabbit's Tale by Maryrose Wood (J Wood)
A brave young rabbit must work with her natural predators to secretly help the incompetent new owners save their farmland home from a developer.
Blue Daisy by Helen Frost (Bridge Books J Frost)
Friends Sam and Katie try to help a stray dog and, in the process, bring their neighbors closer together. Includes a recipe for dog biscuits.
A Home for Goddesses and Dogs by Leslie Connor (J Connor)
After her mother's death, Lydia moves in with her aunts and their dogs. Her collection of collage "goddesses" and new friends help her heal.
A House Full of Rabbits (My Life as Lotta)
by Alice Pantermuller (J Pantermuller)
Lotta encounters a crabby teacher, friendship problems, and a weird recorder while trying to convince her parents to let her have a pet.
The Incredibly Dead Pets of Rex Dexter by Aaron Reynolds (J Reynolds)
Cursed by an old carnival game, sixth-grader Rex Dexter uses his new ability to communicate with dead animals to investigate the mysterious deaths of endangered zoo animals.
Katt vs Dogg
by James Patterson (J Patterson)
A Dogg family and a Katt family spend their vacations at Western Frontier Park fighting with each other. Will they put aside their rivalry when a youngster from each family becomes lost in the dangerous forest?
The One and Only Bob by Katherine Applegate (J Applegate)
Bob sets out on a dangerous journey in search of his long-lost sister with the help of his friends, Ivan and Ruby. As a hurricane approaches and time is running out, Bob finds courage he never knew he had and learns the true meaning of friendship and family.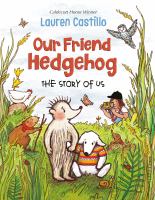 Our Friend Hedgehog: The Story of Us by Lauren Castillo (Bridge Books J Castillo)
When a great storm carries Hedgehog's stuffy dog away, she embarks on a quest to find it and meets new friends along the way.
The Plant Planet (Astro-Nuts)
by Jon Sciezka (J Sciezka)
Four animal astronauts land on a planet inhabited by plants that can think in this wacky sci-fi adventure.
Stella Diaz Never Gives Up by Angela Dominguez (J Dominguez)
Stella loves marine animals. When she learns that the sea and its life forms are in danger due to pollution, she gets help from old and new friends to make a difference.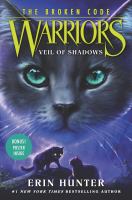 Veil of Shadows (Warriors: The Broken Code #3) by Erin Hunter (J Hunter)
A group of cats must find a way to expose the imposter leading the ThunderClan and return the rightful leader to power before the tensions among the Clans erupt into war.
We Could Be Heroes by Margaret Mary Finnegan (J Finnegan)
Hank, a boy with autism, and Maisie become friends as they try to save a neighbor's dog that is always tied to a tree.