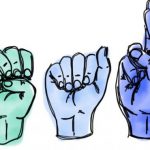 American Sign Language 101 & 201-(Beginner & Advanced Classes)
Teens & Tweens Grades 5-13
Learn the basics of ASL! Teen volunteer instructor Emily will cover the alphabet along with current conversational symbols & phrases. Practice your skills with other interested teens too.
Beginners
Register
  here for the Zoom invite. Grades 5-12.  4:00-4:30 pm
Advanced Register here for the Zoom invite.  Grades 5-12.  4:30-5:00 pm
Thursday, December 10
  |  Zoom (link will be sent to your email)

__________________________________________________________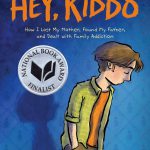 Teen Graphic Novel Discord Discussion Grab 'n' Go Grades 7-12
Join our super fun & informal book club for grades 7-12!
This month we're reading, Hey, Kiddo by Jarrett J. Krosoczka.
This program includes a Grab 'n' Go kit.
Registrants
will receive an email from a Teen staff to schedule a Grab 'n' Go pick-up day/time while supplies last AND the link to join our
December 17th
Discord discussion at 4pm. (The Discord meeting is optional!) 
Registration for a kit begins on 11/17
. Registration can be done in-person or online. Please note: due to limited supplies, if after two attempts to reach you we are unsuccessful, we will assume you're no longer interested and will make your spot available for another interested teen. Thank you for your understanding.
Missed out on the Grab 'n' Go kit but read the book & would still like to join the conversation?
Sign up to receive the Teen Discord link (open to grades 7-12 only) here: 
Teen Graphic Novel Discord Discussion Meet-Up.

_________________________________________________________
uCreate: Game Chat Discord Meetup Grades 6-13
Teens: Hop on our
Discord
server and join us in the gaming channel to share what games you're currently hooked on, get recommendations from others, exchange gaming tips and tricks, and make new friends! Plus, be entered into a gaming-themed drawing.
Register
and we'll email you a link to join the Discord server (if you haven't already).
For grades 6 – freshman year of college.
Friday December 1
   | 7-7:45 pm