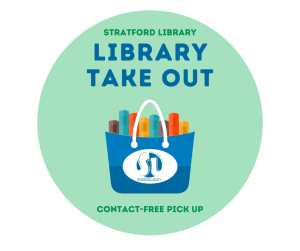 I've been emailing with some of our patrons today, and I didn't want to leave any of you out of the loop – in case you missed it on our FB and main Library page, YES, you can place holds and schedule pick up on ANY Library item. Major thanks to our Circulation and Reference Departments for working so hard to bring you this service. SQUEEE!! Are you excited? REAL BOOKS!
Stratford Library is pleased to be able to offer Library Take Out, a contact-free way to borrow library materials.
You can place items on hold and pick them up by appointment.
Holds will be checked out to you and placed on the table outside the Main Street entrance of the library during your assigned time slot.
Everything will have a loan period of three weeks.
Return materials in the book drop only.
At this time, no fines are being charged for items borrowed after March 1.
Items will stay on your account for three days after you return them and be back-dated when they're checked in. We need to quarantine the items for 3 days before putting them back in circulation. You will not be charged fines.
Full info and FAQs at: http://stratfordlibrary.org/library-take-out/