The Teen Summer Reading Program is off and running.
Stop by the Teen Department and let us help you pick out a great book.
Oh, and check this out–  for every book you read you get a
chance to win these awesome prizes….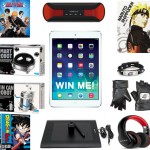 Visit Teen Summer Reading on our website to sign-up because
"you have to be in it to WIN it!"
All prizes are on display in the Teen Dept.
Come check them out and see which prize you would like to try to win!