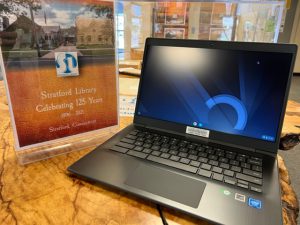 Chromebooks are small laptops that use Google's Chrome Operating System. Library patrons can take them home for 21 days with 2 renewals if there are no holds waiting. They're available at the check out desk and can only be borrowed by adults. They can be used on wifi. If you don't have access to wifi, you can also borrow a hotspot if one is available. Learn more about our hotspot lending program here.
Using a library Chromebook
Chromebooks can be used with any Google account or as a guest. In order to save any work done on a Chromebook, you must be logged in with your own Google account- then you can save your work to your Google Drive. When you turn on the Chromebook, it will ask you to sign in. You can use your own Google/Gmail account. If you don't have one, there is a button on the bottom of the screen that says "Sign in as Guest."
If you sign in as a guest, you can browse the internet, but you won't be able to save any files.
If you sign in with your own Google/Gmail account, you'll have to agree to Google's terms and services when you sign in. When you're signed in, you can save documents on your Google Drive and use other Google apps like Docs and Sheets.
When you shut the computer down, you will be signed out. If you just close the computer, it will leave you signed in. Shut the Chromebook down before you return it.
Before you borrow a Chromebook, you will be asked to sign a lending agreement:
*You are using this device at your own risk. The library is not responsible for any malware, viruses, or malfeasance you encounter while using a Chromebook.
*If this Chromebook is overdue by more than 7 days, the library will disable it remotely and it will not work anymore.
*If you lose the Chromebook, the library will disable it remotely and it will not work anymore.
*Chromebooks must be returned to the checkout desk and may not be put in the bookdrop.
*Any work done on a guest account will not be saved. You MUST use your own Google account to save your work in Google Drive.
Replacement fees for lost or damaged items (subject to change)
Chromebook: $280
Power adapter: $50
Chromebook Case: $30