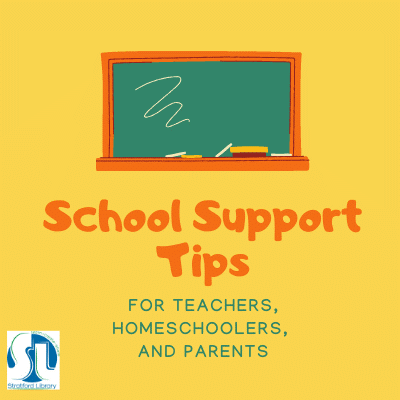 INFORMATION FOR STRATFORD LIBRARY FAMILIES
Hello, families!
The Stratford Library is open, but please be aware that your visit to the library will be a very different experience during this school year.
The Library is operating under our own Phased Plan for Operations During the Covid 19 Pandemic which adheres to guidelines provided by the CDC, the State of Connecticut and the Stratford Health Department.
Our community's well-being is important to us. To that end, we have implemented the following safety measures:
We are limiting the total number of people inside the building in order to maintain social distancing.
Public seating, chairs, tables, study and meeting rooms are not available.
We are asking everyone to limit library visits to 60 minutes or less.
If you have used the library as a location for your older child to spend time independently after school, either to study or wait for a ride, you will need to make other arrangements.
In-person tutoring, group project work, hanging-out and socializing are not permitted.
The Children's play area is closed. There are no toys available at this time.
Computers are available for students in grades 6-12 in the Teen Department, on a limited basis. We recommend making an advance reservation by calling 203-385-4167. For now, Children's computers are not available.
We're happy to share that there are still many library services available.
The Library is open for brisk browsing and borrowing.
Use your Stratford Library card for 24/7 access to digital editions of books, audiobooks, music, movies, magazines and graphic novels via Hoopla, TumbleBooks, Overdrive/Libby, Freegal and Flipster.
If you need a new library card register here. If you need to renew your card, stop by or call 203-385-4160.
Mobile printing with Princh is available. Send homework from your home computer or cell phone to a library printer (normal printing fees apply).
Upon request, library staff will curate a custom list of book recommendations for your child or teen.
Online programs, Homework Helpers for students in grades 1-6 and our popular Grab 'n' Go kits will continue in the fall for children, tweens, and teens. Follow us on Facebook, Instagram, or Twitter for the latest news and updates as well as our Children' Blog and Teen Blog. To search and register for programs, visit our Event Calendar.
Our uCreate Space is offering contact-free 3D printing, die cutting, and VHS-DVD conversion services.
For those who are not comfortable coming inside the Library, contact-free take-out service is still available.
To find our current hours of operation and other info, visit www.stratfordlibrary.org
We look forward to seeing you soon and thank you for your understanding and support.  If you have questions, call Children's Services at 203-385-4165 or Teen Services at 203-385-4167.